Page Menu
Our Faculty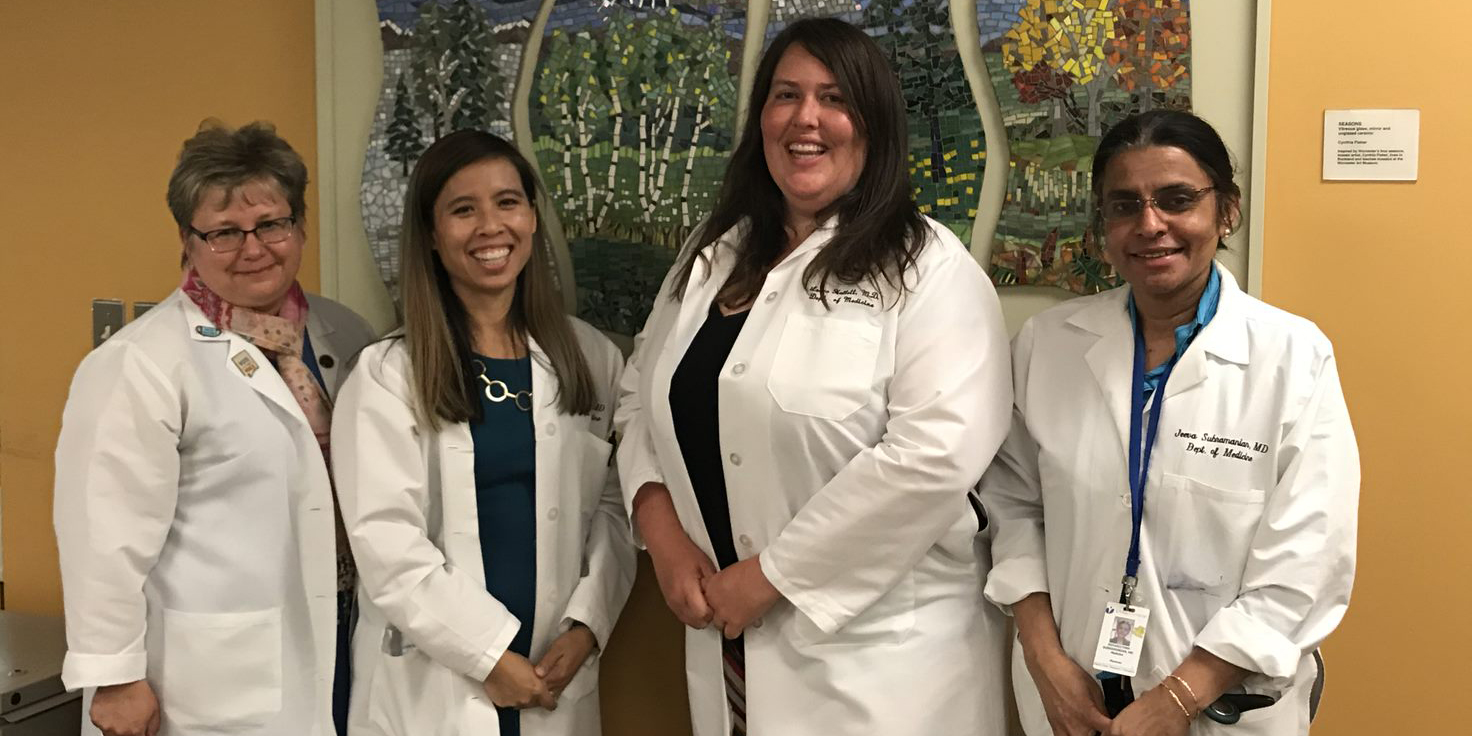 Left to Right: Dr. Murphy, Dr. Skehan, Dr. Hallett, Dr. Subramanian
---
Program Director
---
Elizabeth A. Murphy, MD, FACP
Hometown: Assonet, MA
Undergrad: College of the Holy Cross
Medical School: Boston University School of Medicine
Residency: University of Massachusetts Internal Medicine
Chief Residency: University of Massachusetts Internal Medicine
Dr. Murphy is a lifelong Massachusetts resident. She graduated from College of the Holy Cross in Worcester, MA and from Boston University School of Medicine. She completed her residency and Chief Residency at UMass, where she developed her interest in and love for teaching. In 1999, she joined the Division of General Internal Medicine
, where she
continues to practice and precept in the Benedict Adult Primary Care Clinic. She
enjoys the variety of medical issues she sees each day
and
treasures the long-term relationships she has developed with her patients and her amazing General Internal Medicine colleagues
.
Dr. Murphy has been involved in ambulatory education
and resident mentoring
since finishing her residency. She completed the inaugural UMass Quality Scholars Faculty Development program in 2009 and developed a robust QI curriculum and training program for our IM residents. In 2014, she became Associate Program Director for Ambulatory Training in the IM residency program and implemented the 4+1 scheduling/residency learning community structure we have today.  In 2019, she achieved her career dream when she was asked to create and lead a new Primary Care Internal Medicine Residency at UMass!
Dr. Murphy is an avid sports and musical theater fan. She treasures time with her husband and two sons, traveling, and relaxing on Lake
Winnisquam
, NH with family and friends
.
---
Primary Care Core Faculty
---

Nancy Skeehan, MD, FACP
Hometown: South Hadley, MA
Undergrad: Johns Hopkins University
Medical School: University of Massachusetts Medical School
Residency: University of Massachusetts Medical School
Chief Residency: University of Massachusetts Medical School

Nancy is a primary care internist and proud graduate of both the UMass Medical School and the UMass Internal Medicine residency program, where she stayed on to serve as a Chief Resident. Nancy completed her undergraduate at Johns Hopkins University and double majored in Biology and French. In 2011, she joined the Division of General Internal Medicine as her clinical work is in both primary care and hospital medicine. Her interests include medical education, evidence-based medicine, and transitions of care. She currently serves as the IM Clerkship Director and is Assistant Program Director for the IM Residency. Nancy is also core faculty at the Duke University Teaching and Leading in Evidence-Based Practice Workshop. When not at work, Nancy can be found playing roller derby, running after her three girls, traveling, or reading a good book!
---
Elizabeth Ferzacca, MD
Hometown: Beverly, MA
Undergrad: Barnard College
Medical School: UMass Chan Medical School
Residency: Yale Primary Care/HIV Training Track
Elizabeth Ferzacca, MD graduated from UMass Chan Medical School and trained within the Yale Primary Care/HIV Residency Program. She practices primary and HIV care, and enjoys her curriculum development and teaching roles within the UMass Chan Primary Care Residency and medical school. Her academic passions include person-centered interviewing, HIV primary care, and pre-exposure HIV prophylaxis. During her free time she enjoys playing music with her husband, exploring Worcester, and spending time with family and friends.
---
Laura Hallett, MD, M

E

d
Undergrad: Harvard University
Medical School: University of Pittsburgh Medical School
Residency: University of Pittsburgh Medical School
Fellowship: Boston University School of Medicine


Dr. Laura Hallett grew up in Massachusetts. She attended Harvard University as an undergraduate, then completed medical school and internal medicine residency training at the University of Pittsburgh. Following residency, she completed a fellowship in medical education at Boston University and obtained her
Master's
degree in Education, while spending two years in clinical practice in the Boston VA Medical Center's Women's Health Clinic. Dr. Hallett is a primary care physician at the Benedict Clinic and an Assistant Professor in the Department of Internal Medicine. Most of her clinical time is in the outpatient clinic, but she spends 6 weeks per year attending on inpatient ward teams. She also enjoys volunteering at the Epworth Free Medical Program for uninsured and underinsured patients. In her role as medical educator, she directs the
IM Categorical Program's new Medical Education Track.
In her free time, she enjoys hiking and spending time outdoors, playing tennis, reading, and spending time with family and friends.
---
Jeeva Subramanian, MD
Hometown: Coimbatore, India
Medical School: Coimbatore Medical College, India.
Residency: Michigan State University/Spectrum Health, Grand Rapids, MI
Dr. Subramanian is from South India where she completed medical school. She then moved to the United States and completed her residency in Internal Medicine at the GRMEP/Michigan State University program. Soon after her residency, she joined the same program as Junior Faculty. She was there for almost 22 years where she built her career as a clinician-educator and physician leader in primary care. She was the Director of the residency clinic and the Associate Program Director for the MSU/Spectrum Health Internal Medicine Residency program.  
She moved to Massachusetts in 2017 to be closer to family. She has continued her passion for teaching at UMass, serving as a Longitudinal Preceptor for 3rd-year medical students and clinic preceptor for the residents. She is Associate Program Director for Ambulatory Training . Through her years of experience in primary care education and practice, she has championed the philosophy that primary care medicine is complex and multi-faceted for both the clinician and patient. Adequately understanding and addressing all its different components, not just purely diagnosing and treating symptoms, leads to better outcomes for everyone involved.
Dr. Subramanian enjoys cooking and spending time with her husband and daughter.