Medical Student Lyndia Personnat AAWR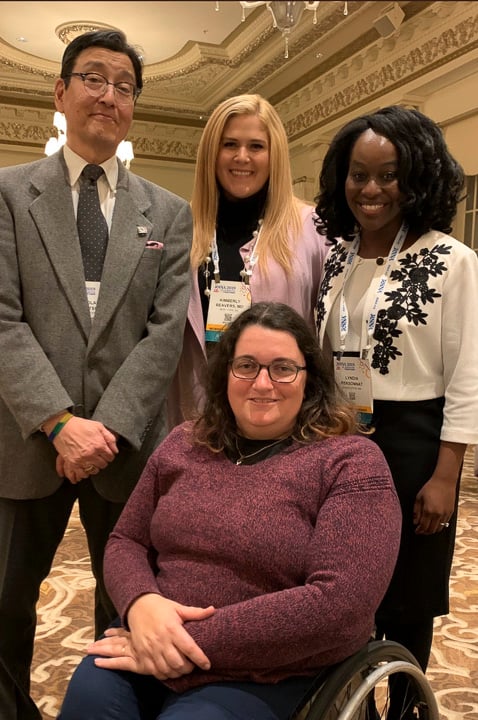 UMass Chan Student Lyndia Personnat was invited to attend the American Association for Women in Radiology Dinner (AAWR) at RSNA this year. Lyndia has been a member and involved with AAWR throughout medical school. Lyndia reports on her experience with the association:
"I've been a member of AAWR throughout medical school and became more involved in the MIT section, consisting of mostly Residents and Fellows in Radiology and Radiation Oncology, over the past year. I currently serve on both the Webinar Development and Medical Student Engagement Subcommittees.
One of my projects involved organizing a webinar titled "Work Life-Harmony: Can We Have It All?". I also had the opportunity to be one of the co-moderators for the event which featured two nationally recognized leaders in Radiology and Radiation Oncology - Ashley H. Aiken, MD, Professor of Radiology and Imaging Sciences, Diagnostic Neuroradiology Fellowship Director, Emory University School of Medicine and Lisa Kachnic, MD, FASTRO, Chair, Department of Radiation Oncology, Columbia University Medical Center. The webinar was well received with over 100 RSVPs, including several members of the UMass Radiology Department. Participants enjoyed a rich discussion on challenges faced when trying to maintain work-life harmony and received invaluable advice on how to sustain it at different stages in one's career.
Due to the success of the webinar, I was invited to attend the AAWR Celebration Dinner on Sunday, Dec 1, 2019 during the RSNA annual meeting, where I had the opportunity to meet many other AAWR members, including several former presidents, and celebrate the accomplishments of this organization over the past year.
Also, anyone who is interested in joining AAWR is encouraged to register to become a member (membership is free for trainees).