Letter from the Chair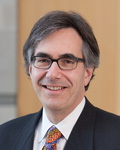 Dear All,
Welcome back from the holidays and new year. I hope that everyone had some time off to relax and re-equilibrate from a busy 2019. In this, the last (belated) issue of 2019, we profile several awards that our residents and medical students recently received, celebrate Rad Tech Week at Health Alliance and our Holiday Parties at UMMMC, thank our caregivers for participating in our annual Thanksgiving basket support for Girls, Inc. families, and report on new IT initiatives as we welcome Patrick St. Jean as our new Director of Radiology IT and implement our first AI/Machine Learning algorithms to help us continue to improve quality care and safety within the department. In addition, we acknowledge a wonderful letter received in recognition of Dr. Gerson's "extra effort" to care for a patient, and report on Dr. Matt Gounis' plenary lecture at the 15th Congress of the World Federation of Interventional and Therapeutic Neuroradiology (WFITN) held in Naples, Dr. Nadav Davidovitch visit from Ben Gurion University in Israel, and Chancellor Collin's recent TEDx talk.
I'd like to thank everyone for their extraordinary efforts in 2019 and look forward to an even better 2020.
Best,
Max