Paul Greer named Rita Allen Foundation Scholar
Date Posted: Wednesday, July 25, 2018
Paul L. Greer, PhD, assistant professor of molecular medicine, and UMCCTS KL2 Scholar, has been named a Rita Allen Foundation Scholar. Dr. Greer will receive up to $110,000 annually for up to five years to support research into Alzheimer's disease. Read more about Dr. Greer's work and this award on UMass Chan News.
M2D2 $200K Challenge Winners
Date Posted: Friday, April 20, 2018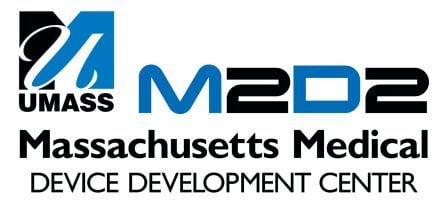 The winners of the 7th Annual M2D2 $200K Challenge were announced on April 10. Seven start-ups from 19 applications were selected as finalists with Leuko Labs grabbing first place. Leuko Labs is the developer of the first white blood cell analyzer that does not require a blood sample. You can read about each of the projects here.
Congratulations to all of the finalists!
New Life Science Moment Fund Awardees Announced
Date Posted: Wednesday, April 25, 2018
The UMCCTS is pleased to announce the following Life Sciences Moment Fund Awards:
John Harris, Duncan Irschick, and Weisont Liu - Integrated 3D imaging to track disease progression and reversal in patients with vitiligo
Natalia Palacios, Kara Smith, Anidita Deb, Beth McCormick, and Doyle Ward - Microbiome in Parkinson's Disease
Kate Pivovarova and Peter Friedmann - Impact of extended release Maltrexone on quality of life in criminal justice offenders with opioid use disorders
Bo Zhang, Nina Zhang, and Arlene Ash - Establishing the UMass Chan-Amherst health policy research laboratory and its inaugural project on evaluating the early impacts of the CARE Act on home discharge and readmission
The LSMF Fund serves to spur inter-campus collaboration and strengthen the University's research portfolio in clinical and translational research. By providing seed funding to outstanding faculty members, this fund facilitates the development of faculty-to-faculty networks within the University system, thereby leveraging the considerable expertise and resources that exist on the individual campuses.
2018 IND LAUNCH AWARDEES
Date Posted: Monday, February 12, 2018
The UMass Center for Clinical and Translational Science, UMMS Innovation and Business Development, and MassBiologics of UMMS are pleased to announce the 2018 recipients of our IND LAUNCH program awards, Dr. Ray Dunn, MD, Department of Surgery, UMMS and Dr. Raffi Aroian, PhD, Program in Molecular Medicine. Dr. Dunn will focus on his project titled, Pressure Ulcer Prevention Device: Device, System, and Algorithm, while Dr. Aroian's research will examine Cry5B monoclonal antibodies for IND_enabling studies."
The IND LAUNCH program assists faculty with the commercial development of UMass discoveries; specifically, to facilitate additional research and development work directed at enabling first in human studies.
New Clinical Research Scholars (KL2) Announced
Date Posted: Friday, February 09, 2018
Congratulations to Dr. Michelle Trivedi, MD, MPH, Assistant Professor, Department of Pediatrics, Division of Pediatric Pulmonary and Allergy and Dr. Paul L. Greer, Ph.D., Assistant Professor, Program in Molecular Medicine for being selected as the latest recipients of Clinical Research Scholar (KL2) Awards. KL2 scholars receive salary and research support to pursue their work and careers in clinical and translational science. Learn more about the KL2 program here.
2018 CRISP Scholars Announced!
Date Posted: Monday, January 22, 2018
The Community Engagement & Research Section of the University of Massachusetts Center for Clinical and Translational Science (CCTS) is pleased to announce four Community Research Innovative Scholars for 2018:
Elizabeth Evans, PhD, MA is an Assistant Professor of Health Promotion and Policy in the School of Public Health and Health Sciences at the University of Massachusetts Amherst.
Lynn K. D'Esmond is an Assistant Professor in the Community Nursing Department in the College of Nursing at UMass Dartmouth.
Amy Cook is an assistant professor in the Counseling and School Psychology Department, College of Education and Human Development at the University of Massachusetts Boston.
Sarah M Camhi, PhD is an Associate Professor in the Department of Exercise and Health Sciences at the University of Massachusetts Boston.
Learn more about the CRISP program and the specifics of the 2018 awardees' work here.