HoloLens: Virtual Reality Arriving in Radiology
Date Posted: viernes, julio 15, 2016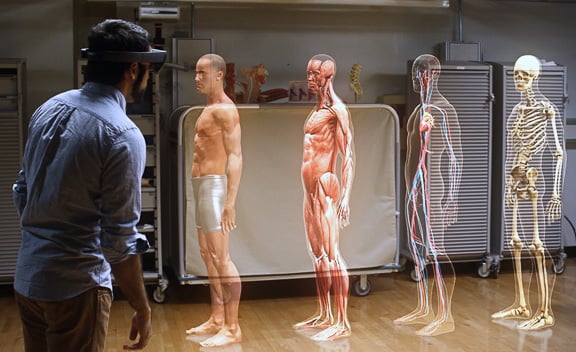 The UMass Radiology and Information Technology Departments are enthusiastically anticipating arrival of two units of Microsoft HoloLens, Development Edition. The HoloLens headset has a built-in computer that projects a 3D hologram allowing users to interact with their gaze, gestures or voice while still in their current environment. Users can manipulate, rotate and dissect holograms. It can be integrated with browsers, YouTube and other software programs as well as 3D models similar to those created with CT and MRI software. The device is currently available for purchase by invitation only.

Earlier this year Khashayar Rafatzand, MD, Director of Body MRI, Paul Langlois, Director of Engineering, Application Development in Information Technology and Weiyan Ci, Senior Engineer joined a wide spectrum of developers submitting applications for creating diverse virtual reality experiences. Their projects and proposals were approved by Microsoft last month.

One of Dr. Rafatzand's goals is to liberate Radiologists from the constraints of the darkroom and allow radiologists to interact with 3D/4D models and collaborate with health care professionals via augmented and virtual reality
The Departments are in a production queue for delivery of two devices. In the meantime the Software Development Kit (SDK) has been downloaded and a variety of uses for the HoloLens is being created. Possibilities for clinical and academic uses are being explored and the team is sure that more will be envisioned once the devices arrive and people are exposed to the potential.
To learn more about the HoloLens and this cool technology visit Microsoft's HoloLens website - https://www.microsoft.com/microsoft-hololens/en-us
Paul Langlois was impressed with the potential for the device when he
participated in a demonstration of the HoloLens at a Microsoft facility.