Page Menu
Division of Colon and Rectal Surgery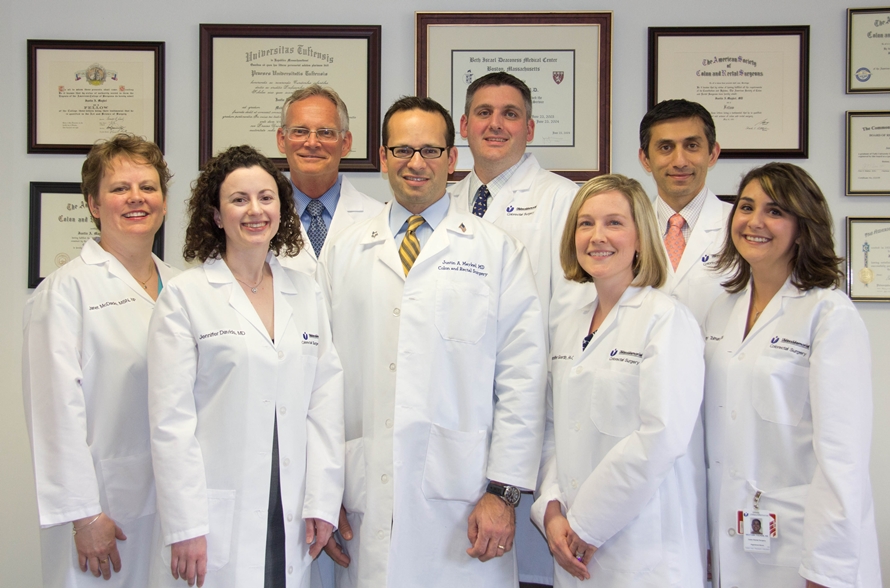 The goals of the UMass Memorial Division of Colon and Rectal surgery are encompassed in our four-part mission statement:
Providing exceptional, state-of-the-art care for our patients
Educating medical students, residents, and practicing physicians
Advancing the field of colorectal surgery through research and investigation
Serving as an educational resource and advocate for the Central Massachusetts community
Specific areas of clinical expertise include:
Colon cancer and rectal cancer. We are members of a multidisciplinary team including surgical and medical oncologists, radiation oncologists, pathologists, radiologists, and gastroenterologists and meet weekly to discuss complex cases at our Tumor Board and Multidisciplinary GI Oncology Clinic. We utilize state of the art 3-dimensional ultrasound and MRI to stage and follow patients with rectal cancer. We routinely offer sphincter-sparing surgery for low-lying cancers. In addition, we perform transanal endoscopic microsurgery (TEM), which is a minimally invasive approach for the removal of rectal polyps or early cancers. Few institutions, worldwide, offer this technology.
Inflammatory bowel disease. The management of patients with ulcerative colitis and Crohn's disease often requires a team approach, coordinating care with our referring gastroenterologists. Surgical intervention is often highly specialized, including total proctocolectomy with J-pouch reconstruction, laparoscopic bowel resection, or management of complicated perianal fistula disease. Our experienced enterostomal/wound care nurses provide comprehensive patient counseling and stoma/wound care, when necessary.
We consider minimally invasive approaches for all of our patients. This includes laparoscopic resections for colon cancer, diverticulitis, Crohn's disease and ulcerative colitis. More recently we have pioneered single incision laparoscopic colon surgery and robot assisted rectal surgery. TEM offers a less invasive option for some rectal polyps and cancers (see above).
Anorectal disorders, including hemorrhoids, fissures, and fistulas are a major component of our practice. We offer the latest techniques including PPH stapled hemorrhoidopexy, transanal hemorrhoidal dearterialization (THD), Botox injection, ligation of intersphincteric fistula tract procedure (LIFT) and fistula plug insertion.
Our Anorectal Physiology Lab, evaluating patients with fecal incontinence, constipation, and rectal prolapse continues to grow. We compassionately evaluate over 100 patients annually. With the recruitment of Richard Barrett as our head technician, along with his 25+ years of experience, we have expanded our services to include EMG testing, biofeedback, and electrogalvanic stimulation. We are one of the few centers in New England with a high volume experience offering the sacral nerve stimulation procedure for patients suffering from fecal incontinence. We offer several options for management of rectal prolapse including abdominal, pelvic, open, and laparoscopic approaches.
Our group is enrolled in research trials, both at the local and national levels, evaluating new chemotherapy options for colon cancer, pharmaceutical manipulation of postoperative ileus, and, soon, the role for laparoscopic resection in rectal cancer.
Research
Research is a cornerstone of our practice. Basic science research involves experiments and studies that occur in a laboratory setting. Clinical trials research, on the other hand, relies on the participation of human volunteers in order to answer questions about treatments for diseases and conditions. Our Division is interested in collaborative translational research, which focuses on iterative feedback loops between the basic science and clinical research domains to accelerate knowledge translation from the bedside to the bench, and back again.
We spearhead physician and industry-sponsored research in focus areas including colon and rectal cancer, anal cancer, inflammatory bowel disease (Crohn's disease and ulcerative colitis), diverticulitis, ostomy management, and anorectal disorders. Through regular presentations at national and international surgical meetings, the UMass Memorial Division of Colon and Rectal Surgery is positioning itself to become a premier research program.
We aim to be at the forefront of Colon and Rectal Surgery research, focusing on four key areas:
Quality and outcomes improvement
Surgical training/simulation
Surgical technique and technical innovation
The impact of race and socioeconomic status (disparities) on health care delivery
Our long term goal for the Division of Colon and Rectal Surgery is to become active leaders in research across the medical center and school, collaborating with existing programs and researchers while developing unique protocols and programs.
Community
As a team we work to be active members of the central Massachusetts community. In addition to providing comprehensive care, our mission involves education and advocacy that promotes heath and disease prevention. Some examples of our work include:
Creating and spearheading a UMassMemorial and UMass Chan Medical School employee colonoscopy screening program. Currently this has led to the screening of over 800 employees.
Developing and leading a day long, annual UMass Memorial Colorectal Cancer Symposium focused on educating the community about colorectal cancer prevention and treatment.
Speakers bureau that gives talks on colorectal cancer prevention, delivered at locations such as UNUM Insurance, Hanover Insurance, Worcester Public Schools Principle meeting, Worcester Jewish Community Center, and Worcester YMCA.
Annual Colorectal Cancer Golf Tournament Fundraiser
Collaboration with EVO restaurant for Celebrity Chef event as Colorectal Cancer fundraiser and education event
Fellowship
For fellowship information, please click here.