Page Menu
Division of Trauma and Surgical Critical Care
The UMass Surgery Division of Trauma and Critical Care provides emergent care for injured patients through the UMass Memorial American College of Surgeons Verified Level 1 trauma center. Staff also provides urgent and emergent care for patients with non-trauma general surgery emergencies (e.g., appendicitis, cholecystitis, perforated viscus, necrotizing soft tissue infection) who present to our University Campus, and to critically ill surgical patients across three surgical specialty ICUs.
All faculty in the Division are board certified by the American Board of Surgery and hold Special Certifications in Surgical Critical Care. Several faculty also have specialty training in Acute Care Surgery, Trauma Surgery, and Burn Surgery. Faculty clinical and research interests cover the range of trauma, emergency surgery, and surgical critical care including:
advanced technology for monitoring and supporting critically ill patients
trauma team training and education
complex abdominal wound closure
socioeconomic and structural issues affecting outcomes in our patients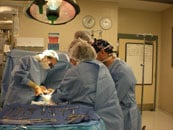 UMass Memorial Level 1 trauma center sees between 2,500-3,000 annual trauma activations staffed by our faculty (age ≥15) and our pediatric surgery colleagues. The medical center also has 36 ICU beds for trauma, general surgery, vascular, neurosurgery, pediatric and other surgical specialties. There are a total of 1,200 admissions a year to the ICU, with an occupancy rate of 95 percent. Our faculty share the care of these critically ill patients with colleagues from the Department of Anesthesiology and Neuro Critical Care.
Our faculty teach medical students and trainees at the bedside on the fundamental concepts of trauma resuscitation, injury management, rehabilitation and multidisciplinary care coordination on the Trauma Service, on the diagnosis and treatment of non-trauma surgical emergencies on the Acute Care Surgery Service, and on surgical critical care on the ICU services. In addition to a didactic curriculum targeting each of these subject areas, all faculty are certified Instructors in Advanced Trauma Life Support (ATLS). ATLS courses are offered in the UMMS state of the art Interprofessional Center for Experiential Learning and Simulation (iCELS) approximately once per quarter.
Recognizing that not all people around the world have access to the high quality, evidence-based, protocolized care for trauma and non-trauma surgical emergencies as is available in the United States, the Division also supports trauma and emergency surgery education and outreach at two international sites, one in Honduras led by Dr. Ulises Torres.