Page Menu
Academic Development Time

Residents are encouraged to participate in ongoing research activities, whether their ultimate career goals are clinical, academic or a combination of both. For those considering an academic career, two optional research years are included in their residency program, with three to four residents per year opting to pursue this track. The two research years are taken between the PGY-2 and PGY-3 years.
The wide variety of research opportunities available ensures that a resident seeking research experience will be able to find a project that will match with his or her specialty interest. In addition, faculty research expertise contributes current knowledge and basic science information to the general training program, thereby enriching and complementing the resident's experience. PGY-2 residents undergo mentorship with the Surgical Research Scholars Program to determine career goals and how research can play a role. After a selection process, residents identify a mentor at UMass Chan Medical School or another institution. Guidance is provided to those who choose to pursue research positions at outside institutions.
Those who opt to conduct their research activities at UMass Chan receive salary funding, dedicated space and statistical support. They also take part in a surgeon-scientist curriculum, including research progress meetings and journal clubs. Additionally, if a resident elects to pursue an advanced degree during this time (see listing of degrees awarded below), tuition is funded if pursued through a University of Massachusetts program. Clinical obligations for those who remain at UMass Chan Medical School include monthly call shifts. Research residents also have the option to pursue moonlighting opportunities during these two years.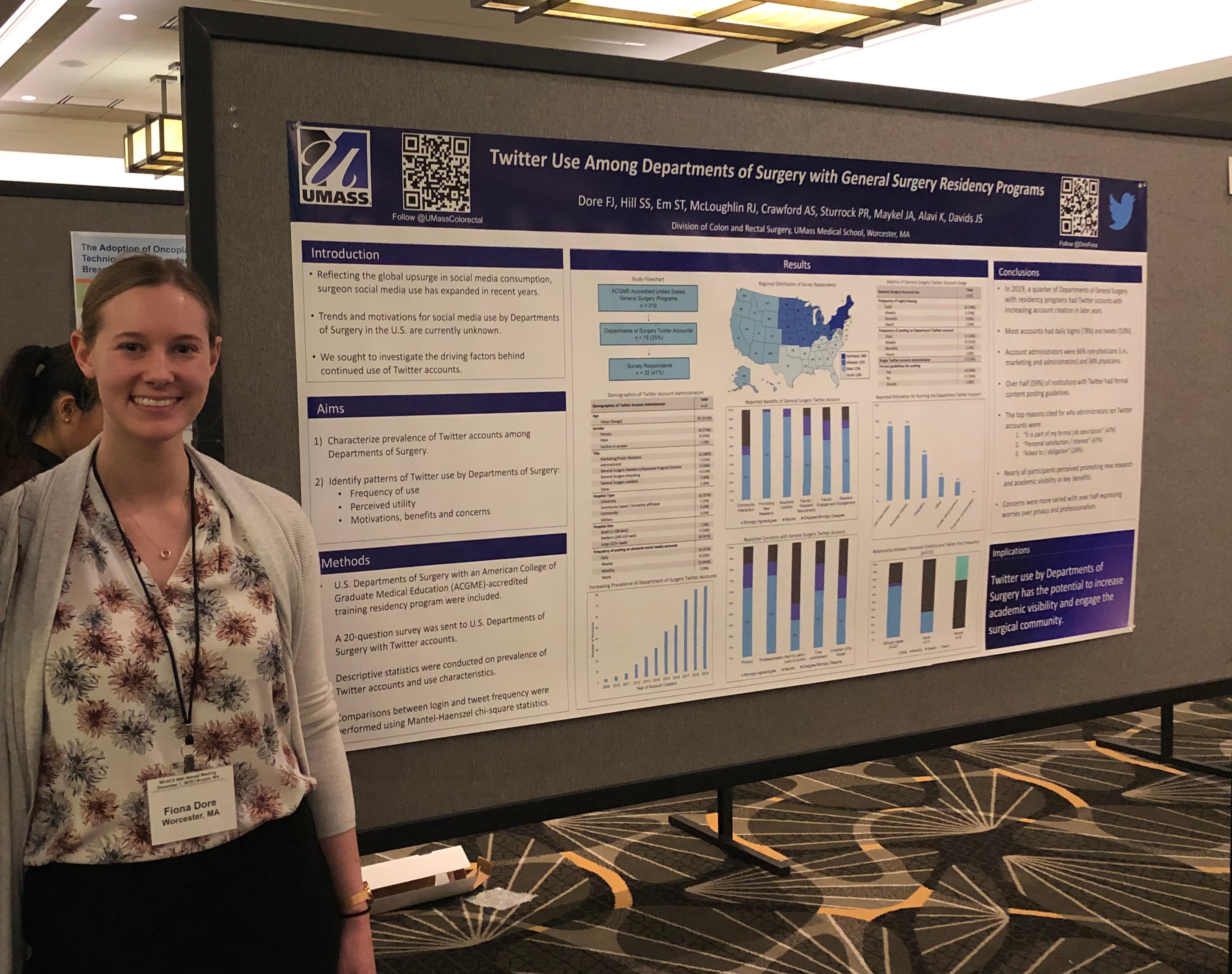 Recent residents have completed advanced degrees in:
Research focuses include:
Basic science
Translational science
Patient safety and quality with process improvement
Dense development and innovation
Clinical outcomes
Global surgery
Education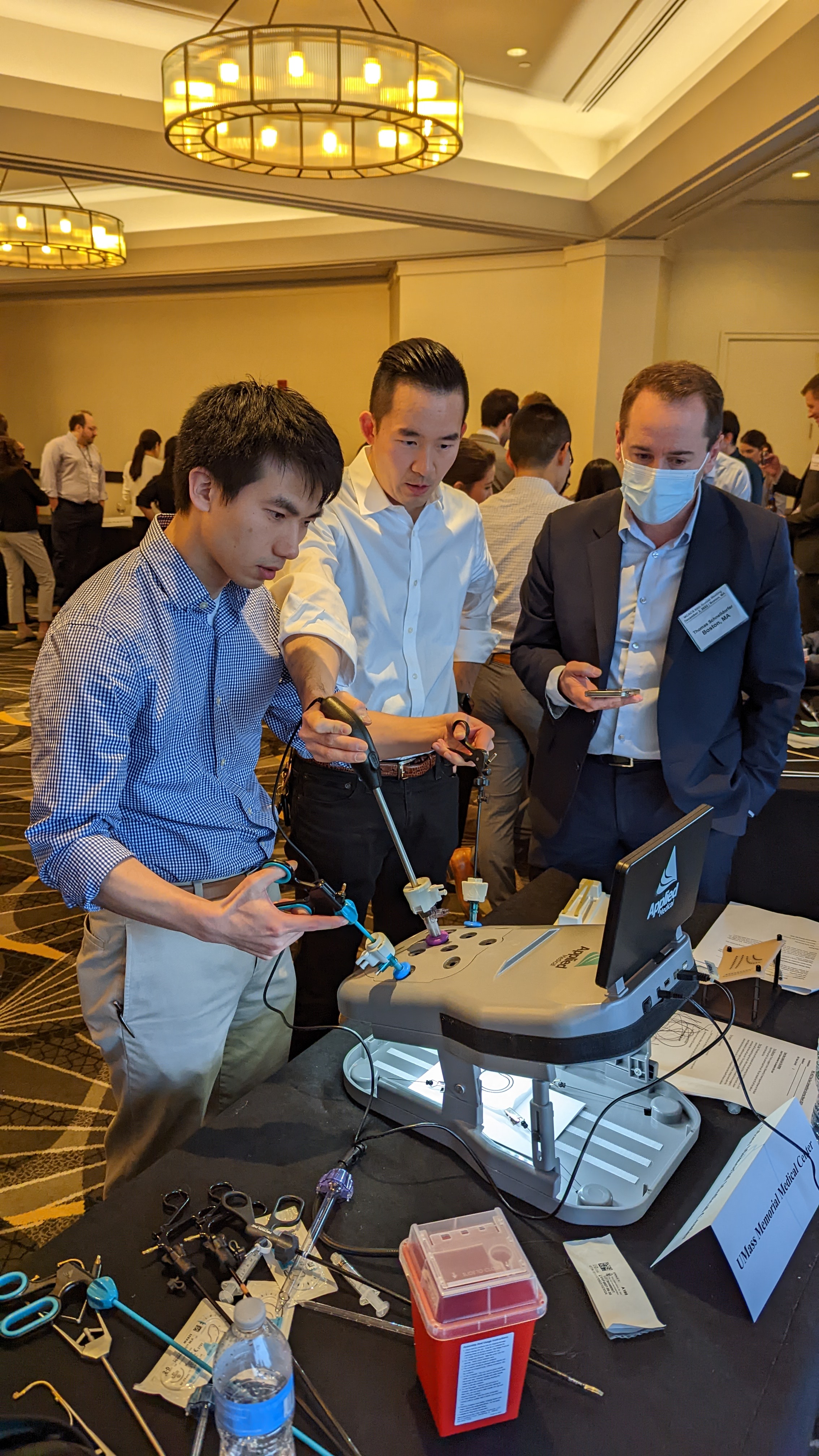 Our research residents continue to compile admirable records of national presentations, peer-reviewed publications and academic research awards. Bibliographies can be seen in individual resident bios.
UMass Chan Medical School receives more than $254 million per year in research funding
Additionally, UMass Chan Medical School was ranked as the most entrepreneurial medical school in the United States with $520 million per year in entrepreneurial and miscellaneous revenue, averaged over the last five years.
Current Research Residents
---

Zachary Ballinger, MD
Zack Ballinger will be a Surgical Research Scholar from 2023 - 2025 and is working on clinical outcomes and injury prevention projects with the Department of Pediatric Surgery with mentors such as Dr. Aidlen, Dr. Cleary, Dr. Wong, Dr. Green, and Dr. Hirsh. He is also pursuing a Master of Science in Clinical Investigation degree from the Morningside Graduate School of Biomedical Sciences at UMass Chan. He hopes to use large national databases to assess clinical outcomes and develop tools for clinicians to predict or estimate pediatric surgery outcomes based on patient characteristics.
Nicole Hays, MD
I have been active in research since undergrad and came into UMass knowing I wanted to take two years for dedicated research time. I am currently at the MGH Center for Transplantation Sciences in Boston working on heart and lung transplantation tolerance within a non-human primate model.

Alyssa Kalustian, MD
Jummy Megafu, MD
Jummy is paving a way for sustainable efforts in global surgery. As the global surgery fellow, she leads our institution's participation in a partnership with Zambia and the ACS Operation Give Back program. Jummy has also developed a year-long multi-institutional research training curriculum with our partners both here in the US and in Zambia. Her other projects include championing DEI initiatives to further diversify the field of surgery as well as projects within the department of colorectal surgery. She is also pursuing a Master's in Public Health at the University of Massachusetts Amherst.
Hayley Reddington, MD
Hayley is working as a Robotic Surgery Research Fellow with Grant funding from the Intuitive Foundation. Her focus is on surgical education and she is working with the Division of Thoracic Surgery on a simulation project to test a department-designed eLearning module on emergency protocols and checklists in the robotic operating room. Her other projects include robotic surgery use in emergency general surgery, resident robotic surgery exposure, and pre-operative frailty scores. She is also pursuing a Master's in Education at the University of Massachusetts Amherst.
Anupama Singh, MD
Anupama is currently a Jack Mitchell thoracic oncology research fellow at Brigham and Women's hospital and am conducting clinical outcomes research using both divisional and national databases. I have completed one year of research thus far. Among other projects, her primary focus has been on the role of continued lung cancer screening in the elderly and exploring the role of objective measures such as gait speed to determine frailty and surgical candidacy of thoracic patients. She has presented at regional, national, and international conferences, including an oral presentation at the European Society of Thoracic Surgeons 31st annual meeting in Italy in June 2023. During her first year, Anupama has also contributed to UptoDate articles and review articles for the Journal of Surgical Oncology.
Emily Stroobant, MD
Emily is a PGY-2R currently working as a surgical research scholar at MSK with Dr. Vivian Strong. She is working on gastric cancer clinical outcomes research as well as novel gastric cancer translational projects in collaboration with Dr. Santosh Vardhana.
Recent Research Residents
---

Danielle DePalo, MD
Gazi Rashid, MD
Qi Wang, MD