Page Menu
Residency Wellness
https://www.umassmed.edu/gme/wellness-and-benefits/

At UMass Chan Medical School, we have created and launched our Wellbeing Program. The objectives of the Wellbeing Program in the Department of Surgery and the General Surgery Residency Program include:
Teaching future surgeons techniques to reduce burnout and to increase resiliency;
augmenting traditional surgical training to develop surgeons who are increasingly competent in the changing world; and
improving patient safety, quality, and satisfaction.
The program encompasses four pillars that characterize the professional and personal values of the residents: physical, mental, social and professional.
Each pillar has a defined agenda. Residents who desire to take part will have the opportunity to engage in a voluntary study to determine if implementation of the program has an impact on the stated objectives.
Components of the wellbeing program include: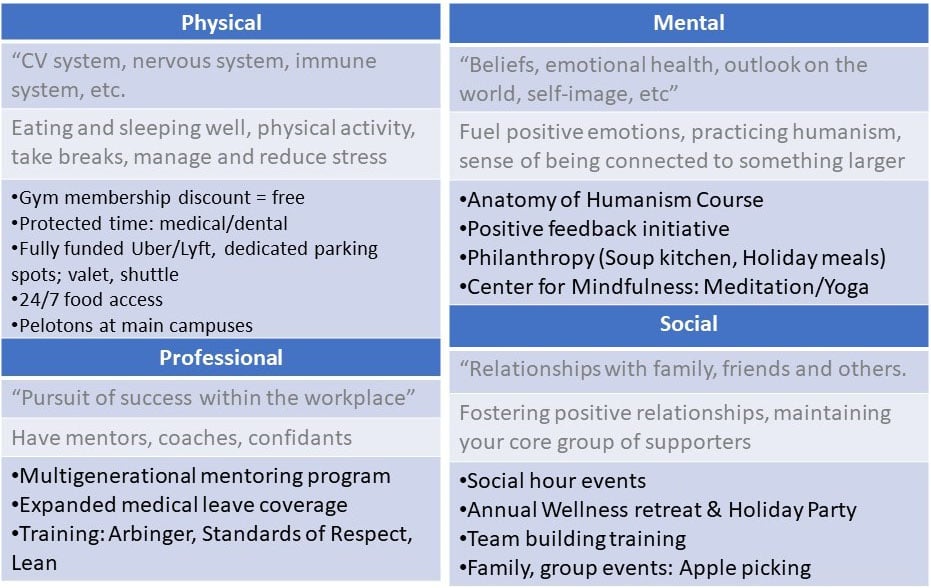 Wellbeing newsletters, published quarterly, and during the pandemic surge, weekly, are available on this site and focus on centering all providers on the "Why" of medicine.
June 2020

Week of June 8, 2020
Wellbeing - End of Year and End of Pandemic Issue (pdf)
May 2020
Week of May 25, 2020
Wellbeing - Reflections: We Stand Together (pdf)
---
Week of May 18, 2020
Wellbeing - Reflections: Travel and the World (pdf)
---
Week of May 11, 2020
Wellbeing - Reflections: On Movement (pdf)
---
Week of May 3, 2020
Wellbeing - Reflections: Why Surgery, Why Medicine, Why UMass?(pdf)
April 2020

Week of April 27, 2020 Part 2
Wellbeing - Reflection: Eat with Your Heart (pdf)
---
Week of April 27, 2020 (Part 1)
Wellbeing - Happy National Superhero Day! (pdf)
---
Week of April 20, 2020
Wellbeing - Spring is the Season of Renewal (pdf)
---
Week of April 13, 2020
Wellbeing - A week in Reflections: No Rules and No Roles (pdf)
---
Week of April 6, 2020
Wellbeing - Reflections, Stories, and Resources (pdf)