Page Menu
Family Medicine Interest Group (FMIG)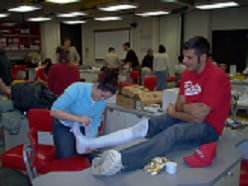 Welcome to the FMIG group of the University of Massachusetts Medical School! Our Family Medicine Interest Group (FMIG) is a student-run organization supported by the Department of Family Medicine and Community Health. We have a rotating leadership each year from members of the MS2 class at the medical school. During the 2014-2015 academic year, our student leaders are Cassie Doucet and Victoria Winslow.

We would love to meet you and we hope to see you at some of our programs. The UMass Medical School FMIG group holds a number of meetings each year focused on issues relating to Family Medicine. It gives students with a common interest an opportunity to consider topics such as, "What is Family Medicine," "Balancing a Career and Family in Medicine," and "Which Primary Care Discipline is For Me?"

In late September we hold our annual Introduction to Family Medicine Luncheon for medical students joined by a panel of Family Medicine residents and physicians to discuss their career paths followed by a Q & A session for student questions. In November we offer a "Hands on Skills" evening. Come learn to suture, cast, do an injection or insert an IUD. In December we help the Department of Family Medicine by collecting toiletries and essentials for the Department's Holiday Gift Basket program. Approximately 300 baskets are delivered to a number of community programs in the Central Massachusetts area. Just to name a few of our annual events. Please join us!
Please do not hesitate to contact either Stephanie or myself. We'd love to hear from you!

Above, Drs. Frank Domino and Bob Baldor speaking at one
of our FMIG Fall Panel Interest Events.