Page Menu
Prospective Pathway Students
Have an interest in developing a practice that includes a broad range of clinical and procedural skills? Think you might like to practice in a rural or small town community or serve an underserved population? Looking for more opportunities to meet other nursing or medical students, further develop hands-on clinical skills, and explore the health care in rural and small town communities through site visits?
If so, you should apply to the Mass AHEC Scholars Rural Health Scholars Pathway! This is a longitudinal, grant-funded interdisciplinary learning experience that offers a mix of academic and social events.
We understand that students' academic schedules are quite vigorous, so we try to offer a varied calendar of events on weekdays, weeknights, and weekends, as well as several activities that can be completed remotely. The Pathway is approved as an Optional Enrichment Elective and offers leadership opportunities in Years 3 and 4.
RHS Students at recent casting and suturing skills sessions
"Being a part of RHS pathway has given me so many incredible learning opportunities, but unexpectedly it also provided me with a wonderful community of mentors and friends. Pathway leaders are committed to supporting students in all aspects of our medical and professional career. What I learned from the RHS pathway went deeper than lessons on how to practice medicine in a rural setting, it taught me how to be a compassionate, concerned, committed advocate and healer for my patients and my community." - Hallie Geller, T.H. Chan School of Medicine '21
"The rural health scholars pathway has been one of my favorite parts of my medical school experience. I have appreciated the small group sessions to learn about the challenges and benefits of practicing medicine in a rural community and understand how the conversations we have about medicine in rural communities apply to many other underserved populations. The skill sessions were a fun way to get hands-on and practice things like suturing, casting, and wound care during first and second year. The opportunity to include rural experiences into the clerkship years helped me further explore the concepts from the small group sessions during years one and two, as well as my own interest in practicing in a small town setting. Perhaps the biggest benefit of the pathway, however, is the rural health scholars community (both students and faculty). I enjoyed having this group within the larger UMass community and have benefitted tremendously from connections with RHS alumni/ae and other contacts for research projects and career exploration." – Jessica Kloppenburg, T.H. Chan School of Medicine '22
"For me rural health scholars hasn't only been about learning what it's like to practice medicine in rural areas; I have learned what it's like to practice medicine with limited resources, which is applicable to treating many underserved populations both urban and rural. It also gave me a small community within the larger medical school. For the first two years it was like a home base, where we learned about interesting topics and had clinically relevant workshops, a welcome addition to the standard biochem and anatomy. And then RHS help me navigate through my third year clerkships and gave me a place to ask questions and seek out mentorship from more senior students." -Inbar Yamin, T.H. Chan School of Medicine '19
"I'd like to again express gratitude for the opportunity and support setting up and financing my experience in Great Barrington, MA… Dr. Pacheco has been fantastic. He's been professional and respectful, particularly considering there are no NP providers or students around. Above all, he's a great teacher and is exceptionally bright… This opportunity has further sparked my interest in both emergency medicine and rural health."-Steve Purcell, Tan Chingfen Graduate School of Nursing '19
"The rural health scholars program was an incredible adjunct to the traditional medical school curriculum. In the pathway, I learned about the unique challenges of caring for rural populations, connected with mentors working in rural areas, completed clinical rotations in rural sites, and explored rural health policy at conferences. The program's faculty are genuinely committed to students and help make the curriculum relevant to each individual's interests. This experience has undoubtedly shaped my career plans and influenced my decision to pursue family medicine." -Annika Bannon, T.H. Chan School of Medicine '19
"Rural health scholars started off as an 'I want to learn more about what this all means' and it turned into a real desire to work in a rural area. I'm so glad that I became a part of your group because I learned so much about rural health but also a lot about myself and how and where I want to practice." –Kari Whitney, Tan Chingfen Graduate School of Nursing '18
Who is eligible to apply:
Graduate nursing students: GEP1, GEP2 or BDNP (Traditional) Nurse Practitioner students before the start of clinical year
Medical students: First or second year students
Anyone interested in exploring practice in rural and small town communities
Requirements for optional enrichment elective credit:
If you are a T.H. Chan School of Medicine student:
If you are a Tan Chingfen Graduate School of Nursing student:

Year One: Attend at least 60% of the seminars

Year Two: Attend at least 60% of the seminars, OR attend 30% of the seminars and complete the Population Health Clerkship or a Summer Service-Learning Assistantship placement in a rural/small town placement.

Year Three: Complete two activities from among the four listed. Provide plans for continuing participation through a rural setting or theme in the 1) Flexible Clinical Experience, 2) Capstone, 3) Family Medicine rotation or 4) other option proposed by the student.

Year Four: Continue 3rd year options OR arrange a 4th year elective in a rural/small town community.

GEP students: Attend seminars as Tan Chingfen Graduate School of Nursing curriculum permits; students are encouraged to attend seminars, as feasible, during subsequent years.

Traditional BS to DNP students: Attend seminars as Tan Chingfen Graduate School of Nursing curriculum permits; students are encouraged to attend seminars, as feasible, during subsequent years.

Students should plan to complete a Population Health Clerkship, clinical preceptorship, or DNP project in a rural setting.
Method of Evaluation: Faculty maintain records of student participation
At the end of the year, students participate in an evaluation of the year's programming and development.
How to apply:
APPLICATION: Click here.
Send complete application to ahec@umassmed.edu.
Further questions can be directed to Suzanne Cashman at Suzanne.Cashman@umassmed.edu.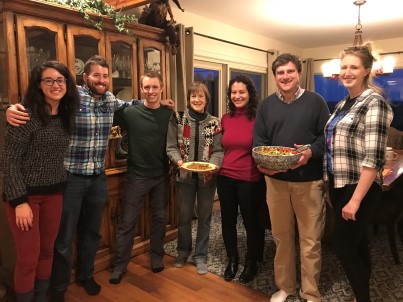 RHS students and faculty at the annual potluck