Page Menu
Population Health Clerkship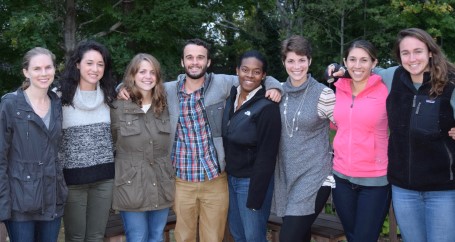 Martha's Vineyard 2016 Students Annika Baron, Rachel Wasserman, Nell Pinkston, Nate Bombardier, Kayla Elliot, Maggie Pollard, Amanda Griffin, and Heither Reily
This is a two-week course required of all medical and GEP nursing students in the fall of the second year. Its aim is to introduce students to public health concepts and to communities as a unit of care. Rural Health Scholars may select one of the small groups that focus on health and related issues in rural or small town Massachusetts. In the past, students have gone to Martha's Vineyard, Barre, Clinton and Outer Cape Cod. RHS Pathway students have priority for a spot in the following clerkships:
Community Health & Health Care Delivery in Rural Central MA - Barre, MA
Students are introduced to a various occupational, community and environmental health problems related to life in a rural community. They work individually or in pairs on a topic that reflects community concern such as issues related to adolescent health, elder health, alternative and complimentary medicine, or environmental health. The group is based at the Barre Health Center, which is a family practice residency training site. Students have the opportunity to shadow a rural doctor and learn about the resources available to residents of small towns, as well as the challenges they face.
Population Health Clerkship in Clinton, MA
Students who elect Clinton, a rural town in Worcester County, MA, as the site for their population health clerkship work closely with our affiliated UMass Memorial HealthAlliance- Clinton Hospital personnel and local community stakeholders. The Hospital utilized the information in the Community Health Needs Assessment to collaborate with other community based organizations to adopt implementation strategies that address the unmet health needs of the Clinton Hospital's catchment area. The students explore the role and function of a smaller hospital with a decided community feel while they work with community groups to achieve the aims of the community health assessment. Recent specific projects include advancing healthy eating, ensuring optimal elder health, and meeting the needs of limited English speaking residents.
Population Health Clerkship on Martha's Vineyard
This group focuses on the nature and availability of health and human services on a semi-isolated, rural island. Beginning with the socio-economic and political contexts in which health care is provided, students learn firsthand how social determinants of health affect island residents. Working on a project that the Dukes County Health Council's Rural Health Scholars Committee has identified, students conduct interviews with a wide range of island residents and develop recommendations that respond to the project's goals. Over the years, students have worked on projects related to teen health, elder health, food insecurity, housing, tick borne illness, mental health, women's reproductive health services, and advanced care planning. In addition, students have an opportunity to attend Grand Rounds at the Martha's Vineyard Hospital, one of the state's four Critical Access Hospitals, and observe/aid providers at the rural health clinic. At the clerkship's conclusion, students give a presentation of their work to the community.
Outer Cape Health Services
Students who are placed on Cape Cod for their population health clerkship experience work closely with the Outer Cape Health Services, a federally qualified community health center, on high priority topics and issues. Through field experience, research and analysis of the health center's quantitative data and qualitative information, students have had the opportunity to gain an understanding of the impact of community health workers on a range of approaches to caring for patients and communities experiencing opioid use disorder. Students have evaluated program evidence and helped to implement enhanced assessment and measurement strategies to improve efficacy and cost impact of the local community health center's navigator program.