Page Menu
Research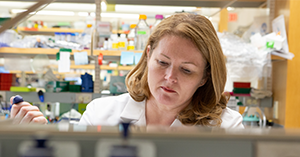 Message from Kate Fitzgerald, PhD, Vice Chair for Research

I am thrilled to welcome you to learn more about the exciting and cutting-edge research in the Department of Medicine (DoM). Research is a core mission of the DoM.
Our Department has an exceptional foundation in basic research and is also nationally recognized for its success in building interdisciplinary teams that support high-quality clinical research. Our faculty are dedicated to training the next generation of scientists and physicians to conduct rigorous and impactful research aiming to understand human disease and bring discoveries to the bedside.

Our investigators have outstanding research programs spanning basic science, translational, and clinical research in
You may learn more by clicking on the links above for each division.



Programs and Services




Our interdisciplinary Program in Digital Medicine and Program in Innate Immunity also contribute to the Department's strength in research and create interdepartmental connections as well.


Our Department of Medicine Clinical Research Core, centralizes research and administrative efforts to support scientists and physicians pursuing basic, translational and clinical research.


Centralized scientific writing, project management, and communications initiatives aim to strengthen and expand the efforts of researchers across all domains, by supporting the work of our scientists.
I invite you to explore our Division and Program sites to learn more. Please reach out to our communications team who will direct your inquiry if you have questions.
Sincerely,
Kate Fitzgerald, PhD