Page Menu
UMMS IT Employee Engagement Portal
Welcome to Engage IT, our IT employee resource portal.
This is our central location to learn about what is going on in our department.
Brought to you by the Engage IT Committee.
Below you can learn more about some of our newest initiatives:
Connect IT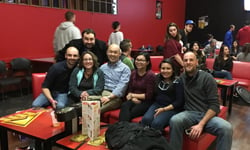 Go on an adventure with new IT friends!
learn more
ITea
Dates to be Announced
Suggest IT
Your voice & opinion counts. Make a difference!
make a suggestion
Summer Volleyball
Join the UMass IT volleyball team this summer!
learn more
Recognize a Co-worker!
Show your appreciation with a star.
learn more
Cancer Walk & Run
UMMS
IT Team
Join Our Team