Page Menu
Self-Service Tools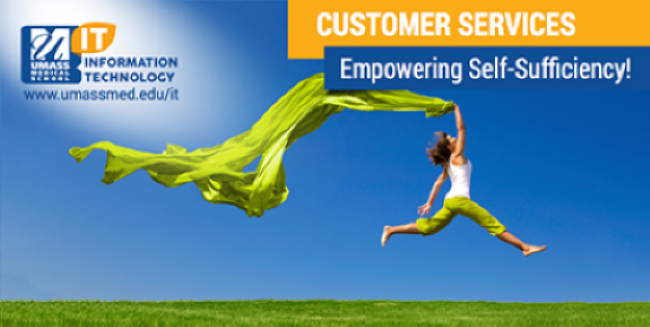 The Information Technology department strives to provide you with the best tools that will assist you in performing your job as well as providing value to UMass Medical School.
We are excited to offer effective Self-Service tools to empower you to be more productive and efficient. The Information Technology department offers tools for the workplace that include the ability to reset your password, modify your UMass Outlook Contact Information, free training on Microsoft products such as Outlook, Word, Excel, PowerPoint and Access and the ability to log your own Helpdesk ticket.
In addition, we offer free tools for home that include McAfee antivirus, Microsoft Office as well as many more tools that can be found in the IT Software Center.
Want to learn more about how to use your favorite Microsoft
products (Windows and Office programs)? We are proud to be
able to provide FREE access to the Microsoft Imagine Academy for all
UMMS employees and students!

Click the logo to get started today!
Log in with your Microsoft account (create one if needed - it is different than your UMMS network login)


Register your enrollment code:

Use your UMMS email address, and

Enrollment code: 3K97J3QAM2AX49

Complete your profile setup

Choose your course and start learning!
Visit this web page to download McAfee Antivirus for Home/Personal use.




Working from home? Need Microsoft
Windows or Office for your home computer?
Visit this web page to have free access to both products, plus a wide range of discounted software benefits.
NOTE: You will need to log in with your UMMS network account to view the available software.