Page Menu
5 Ways Working Helps Me Manage My Mental Health Conditions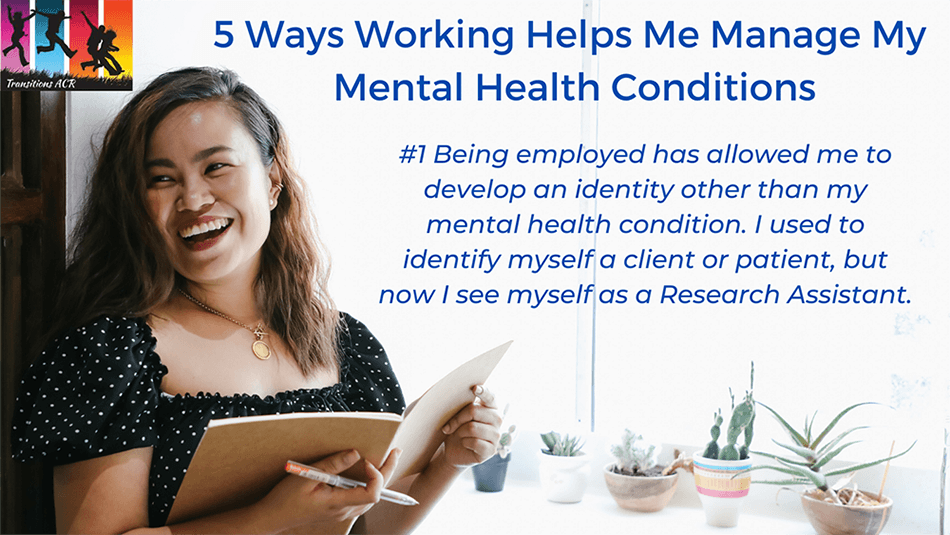 Posted on: 9/29/20
Posted by: Anonymous
October is National Disability Employment Awareness Month. As someone with lived experience of a mental health condition and chronic illness, I can speak to the benefits of employment. Having a job is not only possible for those of us living with mental health conditions, it also can be a key component to our recovery. Here are five ways that my job has helped me manage my mental health condition and recovery.
Being employed has allowed me to develop an identity other than my mental health condition. I used to identify myself a "client" or "patient," but now I see myself as a "Research Assistant."
My job has given me a sense of meaning and purpose in my life. Therefore, I have the motivation and strength to consistently maintain, and even build upon, my mental health recovery.
Work provides a distraction from my racing thoughts, a symptom I previously had trouble managing.
I have gained confidence and self-esteem from my job, which I have been able to apply to other areas of my life.
Having a mental health condition and chronic illness strips me of control and stability at times. Luckily, I have been able to balance that out by holding a steady job with my current employer for the past eight years. This provides me with structure and consistency, which are both necessary for my personal recovery.
Again, I want to emphasize the importance of employment in the disability and mental health community. I encourage others to advocate and spread awareness this October!
Resources
Applying for a Job: The Young Adults Guide
How to Keep A Job: The Young Adults Guide
Supporting Employment for Young Adults Living with Mental Health Conditions
Vocational Rehabilitation (VR): A Young Adult's Guide