Page Menu
How I Use Lights to Manage My Mental Health and Brighten My Mood
Posted on: 2/27/20
Posted by: Anonymous
I am here today to shed some light (or lack thereof!) on how to survive the end of daylight saving time. Let's face it—shorter days and less sunlight during the winter time takes a toll on one's mental health. As someone living with multiple medical and mental health conditions, I can attest that this time of year can be difficult. During this time of year, I notice an increase in my own symptoms, including fatigue and a decrease in motivation. After multiple winters of suffering, I decided it was time to take action to reduce, or even eliminate, my symptoms. I tried countless coping skills unsuccessfully before learning about the creative use of lights. I was shocked to discover that lights can be a highly effective coping skill! Keep reading to learn how I use this quick and simple strategy throughout the day to manage my physical and emotional wellbeing.
Morning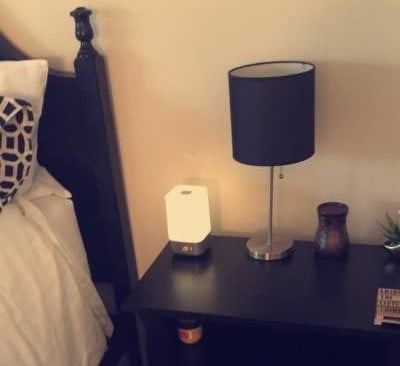 Sunrise Simulation Alarm Clocks gradually wake a person by using light to mimic the sunrise. The light on my clock slowly brightens over a period of thirty minutes, ending with an alarm sound of my choice. I have found that I am less groggy and no longer need to utilize the snooze button. It has been immensely helpful in getting my body on a sleep schedule, which has allowed me to wake up solely by the light and prior to the alarm sounding.
6:05 a.m. - Turn on the Lights in all the Rooms
Since I usually wake before sunrise, as soon as I get out of bed I walk around my apartment and turn on all the lights in the rooms I'll be using. I have multiple dimming floor lamps, which I adjust to just below full brightness. Having my floor lamps turned on is a subconscious reminder to myself that it is time to be awake.
7 a.m. - Open the Curtains
After showering and getting dressed, I turn off my lights and open my window curtains. Hello to natural daylight!
Midday
10 a.m. - Take Advantage of Natural Sunlight
Nothing can replace the benefits of natural sunlight. A few of the many benefits include: increased absorption of Vitamin D, improved mood, and potentially reversing Seasonal Affective Disorder (SAD). I make a daily effort to spend at least thirty minutes in the sun by making simple adjustments to my schedule. For example, I'll walk around an outdoor shopping mall as opposed to shopping at an indoor mall. Do not be hard on yourself if you cannot complete this goal daily.
2 p.m. - Calm Down with a Visual Lights App
When I am overwhelmed or anxious, I find that sensory apps can be helpful. Relax App (iOS), which I use often, uses light to help calm the mind and body.
Afternoon
4 p.m. - LED Lights with Timers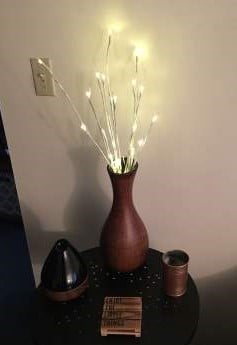 I have LED lights positioned throughout my apartment that are timed to turn on daily just before sunset. This ensures that I remain in a well-lit area, which helps to ward off late afternoon winter blues.
5 p.m. - Do-It-Yourself (DIY) Lamp
I find DIY lamps great for three reasons. First, they are great for lifting spirits. Secondly, I really like the ability to customize. Finally, that creative process of designing the lamp is therapeutic in itself and a fantastic coping skill. Want to make a DIY lamp yourself? Check out this how-to guide.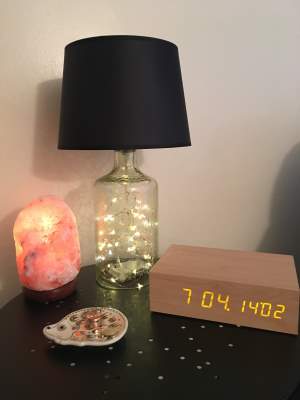 Evening
6:30 p.m. - Himalayan Salt Lamps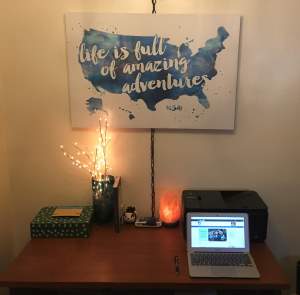 Himalayan Salt lamps have been claimed to have numerous health benefits, but there continues to be a lack of evidence-based research to backup these claims. Regardless, I find the amber glow of a Himalayan Salt lamp perfect for unwinding at the end of the day. After dinner I replace the bright overhead lighting with a couple of Himalayan Salt lamps, thus creating a cozy atmosphere.
7 p.m. - Fireplace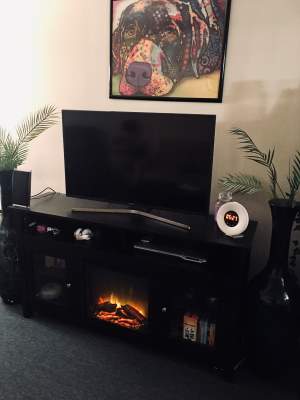 At the end of a long day I absolutely love sinking into my couch in front of my electric fireplace. Don't own a fireplace? Don't fret- you can always download a fireplace background on your phone or play one on your computer or TV through YouTube for the same ambiance!
Insider tip: curl up with a good book and microwaveable plush for the full experience!
Bedtime
9 p.m. - Sunrise Simulation Alarm Clock
Before bed I listen to an audiobook for a half hour while finishing up my bedtime routine. I turn off the lights in my apartment and set my Sunrise Simulation Alarm Clock to "Color Changing Mode." This mode cycles through multiple colors, transforming my room into a tranquil and soothing lightshow. I find coupling an audiobook and "Color Changing Mode" to be particularly useful in warding off worry thoughts. Lastly, I set my alarm clock for 6 a.m. so I will be ready bright and early the next day!
I was pleasantly surprised to find that a simplistic approach, like the creative use of lights, was having such a profound effect on my emotional wellbeing during the dreary winter months. I recommend playing around with lights in your space to see what works for you. Like I always say, this may involve some trial and error. You will soon discover, though, that with a few tweaks to your daily routine, it IS possible to enjoy the winter!