Page Menu
News
December 17, 2021-
Ann Moormann Elected to the African Academy of Sciences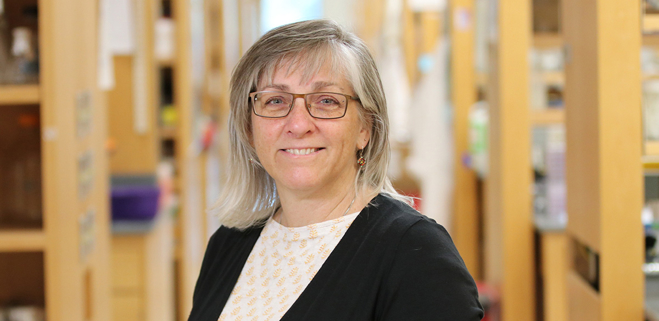 Ann Moormann, PhD, MPH, Professor of Medicine in the Division of Infectious Diseases and Immunology in the Department of Medicine and a faculty member in the Program in Innate Immunity, has been elected as a Fellow of the African Academy of Sciences (AAS) in recognition of her outstanding contributions to the development of science, technology and innovation in Africa. Dr. Moormann's research focuses on the immunopathology of malaria, Epstein-Barr virus, and endemic Burkitt lymphoma.
The AAS Fellowship comprises individuals who have reached the highest level of excellence in their field of expertise and have made contributions to the advancement of the field on the African continent. Fellows of The AAS are elected based on their achievements that include their publication record, innovations, leadership roles and contribution to society. Election into The AAS Fellowship is done through a rigorous review process.
Dr. Moormann will be inducted and receive her Certificate of Fellowship at the next AAS General Assembly Meeting.
Congratulations, Dr. Moormann, on this incredible honor!

Other Recent News
October 2021- New study, "Human nasal wash RNA-seq reveals distinct cell-specific innate immune responses between influenza and SARS-CoV-2", published in JCI Insight. UMass Chan MD/PhD student Kevin Gao, along with senior author Dr. Jennifer Wang, the late Dr. Robert Finberg, and colleagues, performed a small study comparing single-cell RNA-sequencing findings in freshly-collected nasal wash samples from UMass Memorial Medical Center patients diagnosed with either acute COVID or influenza to understand how upper airway immune and epithelial cell responses differ between these two respiratory viral infections. Read more.


September 2021- The Program in Innate Immunity welcomes our 2021-2022 T32 Trainees from the Innate Immunity Training Program and Autoimmunity and Autoinflammation Training Grant Learn more about our training programs and meet our trainees!