Page Menu
From Our Program Director

Welcome to UMass Worcester Family Medicine!
We are a top-ranked university program with three community-based health center training sites offering uniquely different clinical and educational experiences. Faculty and residents work collaboratively to create a diverse, strong, and supportive community.
Like three-residencies-in-one, our health centers in Worcester (
Family Health Center of Worcester
and
Hahnemann Family Health Center
) and just outside Worcester (
Barre Family Health Center
) have separate match numbers and conduct interviews on separate days. I invite you to explore our website and learn about us. Select the health center or centers that you feel will best meet your goals.

If you are applying to our residency, please see our admission requirements. Review our

Curriculum

details.
Interested in a visiting rotation with us? Click here.


We welcome applicants from both US and international medical schools each year and we are excited we have both overseas graduates and domestic graduates in our current residency class! Check out our recent residency graduates from international medical schools.

We are committed to resident-centered education and provide the resources and flexibility to help you reach your full potential. Come share our passion for Family Medicine at UMass!


Ginny Van Duyne, MD


Program Director




"Why Worcester" for your residency? Check out a 3-minute clip all about our home city! Worcester was also featured on a recent episode of Boston's local newsmagazine Chronicle.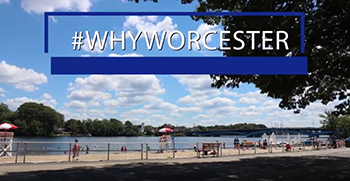 NEWS AROUND THE RESIDENCY
Follow @umassfamilymedicine on Instagram
In the recently-released 2024 rankings by US News and World Report, UMass Chan Medical School was named both "first in New England" and "top ten percent in the nation for primary care education!" Read more here!




Throughout our site, you can find images from the Workers of Worcester photography project created by An-Hoa Giang, MD, and Henry DelRosario, MD. These images and the powerful stories shared by members of our healthcare system document the struggles and triumphs of our shared fight to build a more equitable and just society for everyone. Click here to learn more.