Page Menu
Graduate School of Nursing Graduates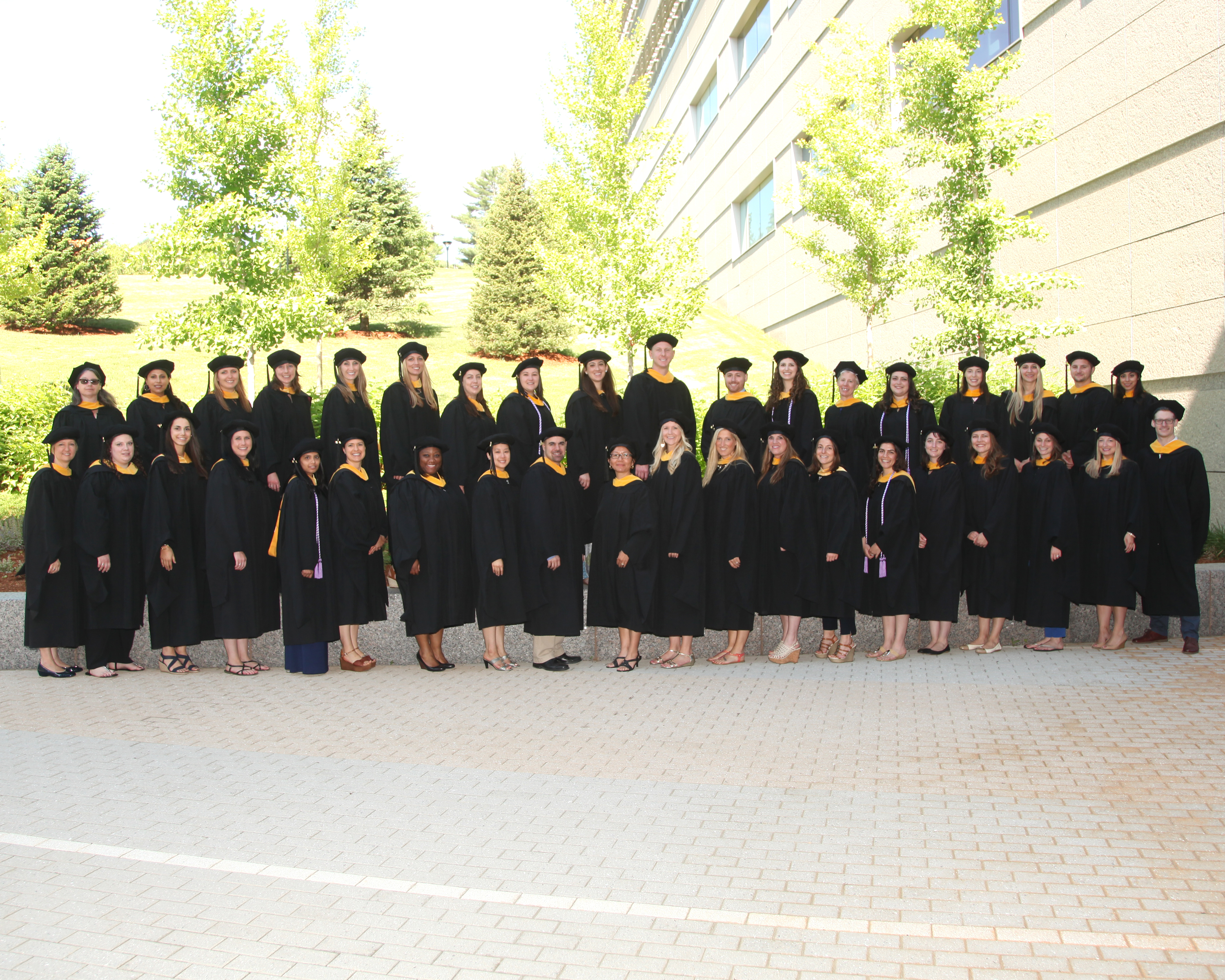 UMass Medical School Hooding Policy
The University of Massachusetts Medical School (UMMS) allows for graduates that have a parent or family member who is currently on the faculty or an alumnus of UMMS to hood their graduate at Commencement.
Family hooders are required to attend a rehearsal, wear regalia and be seated on the stage during the ceremony.
If you would like to see if you qualify please contact the Office of University Events.
Invitations and Tickets
Invitations and seating tickets (required) will be available in the Graduate School of Nursing (GSN) office (S1-853) in April; you will receive an email when they are ready to be picked up. You may invite as many guests as you want, but you must provide each guest with a ticket in order that we may provide sufficient seating, food, and parking. Commencement will now be joining the "Growing Green" initiative at UMMS in order to help lower the insitiution's carbon footprint. We will be distributing less printed invitations, as well as programs, this year and encourage graduates to use our online invitation form to communicate with guests. If you find you need additional tickets after ordering through the GSN Commencement Survey, please contact Diane Quinn or Sue Young who will be happy to provide them to you.
Accessible Seating
If any of your guests use a wheelchair or walker, need a signer, have an assistance animal, or need other special consideration, reserved seating for handicapped guests and three companions is available. Please enter the information in the GSN Commencement Survey as soon as possible, and we will do our best to accommodate their needs. Accessible seating will be held until 11:35 a.m. at which time the seats will be released to the general public.
Regalia
University Cap & Gown has been selected to provide your graduation regalia. All students should order and pay for their regalia online before April 30th. Please have your Student ID Number (found in PeopleSoft) ready when registering for your regalia. The cost for master's graduates is $40.01; for doctoral graduates, $51.75. Regalia will be available for pickup immediately following Commencement rehearsal on Wednesday, May 30, 2018.
Caps and gowns must be returned in the original bag to the Book Store (S1-103), clearly marked with your name, no later than Monday, June 4th. The hood that will be provided at the ceremony is yours to keep.
The Graduate School of Nursing Graduation Reception
Wednesday, May 30th, 2018
The Graduate School of Nursing Graduation Reception will be heald in the Albert Sherman Center Cube at 4:00 pm.
Please RSVP through the GSN Commencement Survey, or contact Sue Young or Diane Quinn
Photos and Video Your class photo will be taken immediately following Commencement rehearsal on Wednesday (refer to complete Commencement weekend schedule). You must wear your cap and gown for the picture. Information about ordering class pictures will be sent to you from the GSN. The photographer will also take other pictures as requested.
A video recording of the entire Commencement ceremony will be available. You may stream live, as well as view the recording after the ceremony.
Hometown Publicity
If you wish to place a graduation announcement in your hometown newspaper, a suggested format is provided here. Amend it to convey all the appropriate personal information.