Page Menu
The Educational Recognition Awards
The first Educational Recognition Awards ceremony was held in 1999, envisioned by an ad hoc faculty group as a means of reaffirming education as the founding and primary mission of the campus. The event is characterized by recognition of educational excellence in all three schools, a celebration of the collaboration between the three schools and pride in the dedication, passion and creativity of faculty. Recipients are nominated and chosen by their faculty colleagues; students also participate in the nominating process within the Graduate School of Biomedical Sciences and the Graduate School of Nursing. The awards are presented by the deans of each school at an event held toward the end of the academic year.
2018 Recipients
Graduate School of Nursing
GSN Dean's Award
Jesica Pagano-Therrien, PhD, RN, CPNP
GSN Distinguished Faculty Awards
Elizabeth Keating, MS, APRN, NP-C
Susan Feeney, DNP, FNP-BC
Carol Bova, PhD, RN, ANP
Graduate School of Biomedical Sciences
GSBS Dean's Award
Kate L. Lapane, PhD
GSBS Faculty Awards
For outstanding contribution to curricular development
Systems and Computational Biology Course Team
A.J. Marian Walhout, PhD
Robert C. Brewster, PhD
Job Dekker, PhD
Michael J. Lee, PhD
Amir Z. Mitchell, PhD
Lutfu Safak Yilmaz, PhD
For outstanding research mentoring and commitment to student professional advancement
Nese Kurt Yilmaz, PhD
Paul R. Thompson, PhD
For outstanding contributions to trainee mentoring and/or professional advancement
by a postdoctoral associate
Jessica L. Feldman, PhD
For outstanding contributions in the lecture and classroom settings
Egil Lien, PhD
School of Medicine
Outstanding Medical Educator Awards
Mai-Lan Rogoff, MD
Howard Sachs, MD
Educational Achievement "Star" Award
PURCH Curriculum Team
Heather Sankey, MD
Kevin Hinchey, MD
Rebecca Blanchard, PhD
Raquel Belforti, DO
Sam Borden, MD, FAAP, FACP
Justin Ayala
Opioid Curriculum Team
Melissa Fischer, MD, MEd
Jill Terrien, PhD
Kavita Babu, MD
Jennifer Reidy, MD
Madeline Nunez Johns
Jeffrey Baxter, MD
Dan Mullin, PsyD, MPH
Resident/Fellow Award
Charlotte DeLeo, MD
Dean's Award: Lamar Soutter Award for Excellence in Undergraduate Medical Education
Michele Pugnaire, MD
Eric Schmidt, MD
Chancellor's Award for Excellence in Mentoring
Carol Bova, PhD, RN, ANP, professor of nursing and medicine
---
The Last Lecture
Presentation of The Last Lecture by the recipient of the Chancellor's Medal for Distinguished Teaching was added to the event program in 2011. Medal recipients are nominated by the faculty and selected by the Chancellor. Criteria for this honor describe having fostered students' personal, intellectual and professional development.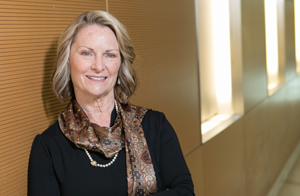 "Looking Forward Through the Rearview Mirror"
Anne Gilroy, MA, professor emeritus of radiology in the Division of Translational Anatomy