Page Menu
Commencement Celebrations
Sunday, June 2, 2024
This year the ceremony will be back on campus, under the tent, on Campus Green #2, rain or shine. Be sure to dress appropriately and encourage your guests to do so. We suggest wearing low-heeled shoes.
Please note: Backpacks, briefcases, large bags, and wrapped gifts will not be allowed into the tent on Commencement Day. Handbags, purses, and camera bags will be allowed but may be subject to inspection prior to entry. Unattended backpacks or bags may be subject to inspection or removal without notice by members of the Department of Public Safety. We discourage bringing any pets to our Commencement Exercises for the safety of our guests and the patients in our hospital that borders the ceremony.
In addition: Please do not bring any pets to our ceremony. Although it is an outdoor ceremony and we love dogs, cats, etc., we discourage bringing them due to heat and weather conditions. Also, as we are located next to a public hospital, having animals around the green is a liability. If you have a service dog, please notify our office and we will make the necessary accommodations.
Guests are encouraged to take their seats no later than 11:30 a.m., as Graduates will process down the aisle starting at 11:45 a.m., followed by UMass Chan Medical School faculty and distinguished guests. It is expected that the ceremony will last approximately two hours.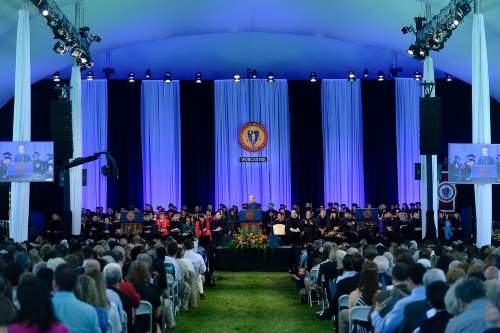 If inclement weather is forecast for Commencement day, the Hiatt Auditorium (S1-608) will be available in the main school building for those who wish to view the ceremony via live streaming. Directions are as follows:
From the Medical School main entrance, go straight through the lobby and past the Information Technology Office to the end of the corridor.
Turn right.
The Hiatt Auditorium is located down the hall on your left.