Page Menu
Director, Xiaofei Wang, MD, PhD
About Us
Consultative Services
Specimen Requirements
Requisition
Contact Information
About Us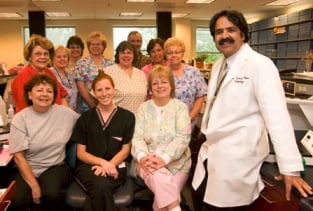 The section of surgical pathology is one of the largest components of Anatomic Pathology, with some 15-attending pathologist with subspecialty expertise complimented by nearly 40 other personnel. The section is equipped with state-of-the-art laboratories and accessions approximately 55,000 specimens per year of diverse type. At our daily consensus conference faculty bring their challenging cases to discuss with colleagues
We provide surgical pathology diagnostic service to UMass Memorial Health system hospitals, its community affiliates and clinics and many other private practice physician groups in central Massachusetts and Connecticut.
Our Mission is to:
Provide the highest quality of patient care and the most accurate diagnosis.

Maximize our clinical efficiency and provide shortest possible turnaround time for the surgical pathology specimens processed in our laboratory.

Serve as consultants to our clinical colleagues and maintain effective and proper communication with them.

Advance clinical and translational research

Train future generations of pathologists by supporting our residency and fellowship programs.
---
The UMass Memorial Medical Center provides expert consultative services in surgical pathology and its subspecialties. Our experts have interests in: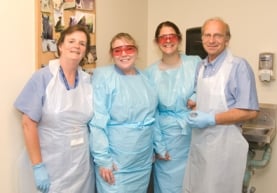 * Breast Pathology
* Dermatopathology
* Gynecological Pathology
* Head and Neck Pathology
* Hematopathology
* Lung Pathology
* Neuropathology
* Prostate and Genitourinary Pathology
* Renal Pathology
We will bill the patient's insurance or the referring institution.

Please fill out our consultation form and forward it with slides / blocks and a copy of the surgical pathology report to:
UMass Memorial Medical Center
Pathology
Three Biotech
One Innovation Drive
Worcester, MA 01605
Phone – 508-793-6100
For Billing Questions:
Cara Strock
508-793-6204
Cara.Strock@umassmemorial.org
---
Paraffin block or unstained slides and one H&E

Tissue fixed in 10% Neutral buffered formalin

Send specimens to:
UMass Memorial Hospital Labs
365 Plantation Street
Worcester, MA 01605
508-334-2863
For assistance with consultation cases please call the Main Office at 508-793-6100
For assistance with billing issues please call Cara Strock at 508-793-6204
---
Director: Dr. Xiaofei Wang
Division of Anatomic Pathology
Three Biotech
One Innovation Drive
Worcester, MA 01605
Tel: 508-793-6100