Page Menu
Diagnostic Cytopathology Laboratory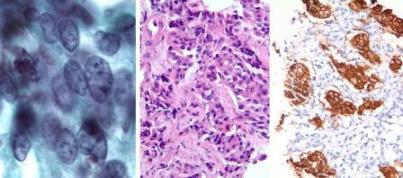 Ductal carcinoma of breast diagnosed with fine needle aspiration (22 gauge) biopsy (left), showing unequivocal invasion in CellientTM cell block (middle), and validated overexpression of Her2/neu by immunohistochemistry (right).
Staff
Our Mission
About Us
GYN Pap Testing for Cervical Cancer
Non-Gynecologic Cytopathology
FNA Service
Detailed Specimen Collection Instructions
Contact Information
---
Staff
Supervisor: Marypatricia Scott
Staff Cytopathologists:
Andrew Fischer, MD
Ali Akalin, MD., PhD.
Gina Cunto-Amesty, MD
Robert Goulart, MD
Dina Kandil, MD
Xioafei Wang, MD., PhD.
Xiaoqin (Cynthia) Zhu, MD., PhD.
Tianle Zou, MD (back to top)
---
To use the smallest possible biopsy in order to make safer, less painful, and faster definitive diagnoses.

Screen for cervical cancer using the most sensitive and cost-effective techniques.

Develop new technologies for using small biopsies in diagnosis.

Advance cancer research through study of the molecular basis of diagnostic changes in cell structure.

Educate medical students, residents and fellows, and cancer researchers about cytopathology diagnosis.
---
About Us
The UMASS Diagnostic Cytopathology Laboratory includes a staff of 10 Cytopathologists and 10 cytotechnologists dedicated to detecting and definitively diagnosing cancers and other diseases using the smallest possible biopsy or cell sample. An estimated 100,000 cytology samples are anticipated in 2010. Fine needle aspiration (FNA) biopsies can be performed on a stat basis by the Cytopathologists, or patients can be scheduled to the Cytopathology FNA clinic at the University campus. Cases prepared at outside laboratories can be referred to the Laboratory's nationally recognized Cytopathologists for confirmation of diagnoses, or for consultation. The Laboratory is equipped with the state-of-the-art Hologic Imaging System for Pap tests and is one of a handful of Laboratories in New England with rapid CellientTM processing of microbiopsies for histologic examination and immunohistochemistry.
Through cooperation with the adjacent Diagnostic Molecular Oncology Laboratory, the