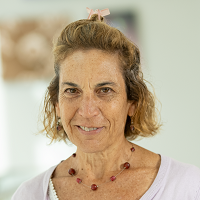 In this month's Chair's Spotlight, we highlight the work of Mayra Tisminetzky, MD, PhD, MPH, an associate professor of medicine in the Divisions of Health Systems Science and Geriatrics. She also holds a secondary appointment in population and quantitative health sciences.
Dr. Tisminetzky's research focuses on the epidemiology of aging and cardiovascular diseases with a specific focus on addressing the management and clinical outcomes of older adults with multiple chronic conditions (MCCs). She is currently the principal investigator on an NIH National Institute on Aging (NIA) R01 project where she is investigating "Multimorbidity and Treatment Related Outcomes in Older Heart Failure Patients." The presence of two or more chronic conditions greatly increases the risk of hospitalization and mortality among older heart failure (HF) patients. Additionally, when patients suffer from multiple chronic conditions, it can complicate the management of HF, especially with regard to pharmacotherapeutic decision-making. While national guidelines for HF patients exist, caution is required when applying established clinical practice guidelines to the care of older adults with multimorbidity, as practitioners are faced with managing not just a single condition, but multiple conditions simultaneously. Here, Dr. Tisminetzky is examining treatment patterns and the overall benefits versus harm of selected therapies in patients presenting with HF and multimorbidity. The study cohort includes over 100,000 HF patients from the Health Care Systems Research Network, many of whom have a mean number of conditions of greater than/equal to seven. This shows the critical need for studies like this and others to address care and establish care guidelines for patients with MCCs. Dr. Tisminetzky is also a co-investigator on the Advancing Geriatrics Infrastructure & Network Growth (AGING) Initiative, an R33 project funded by the NIH NIA. The goal of this project is to expand on and further develop innovative methods related to measurement and analytics, observational research, and pragmatic clinical trial design and implementation, to inform the development and testing of novel interventions that improve the care and outcomes of older patients with MCCs.
Recently, Dr. Tisminetzky began collaborating with Drs. David McManus and Apurv Soni on the RURAL (Risk Underlying Rural Areas Longitudinal) Cohort Study, which aims to identify the frequency and risk factors for heart and lung diseases in rural communities. Her work is in the mobile health core, which will collect important risk factors and physiological variables using a smartphone app and a wearable, wrist-based informatics system.
Along with her research activities, Dr. Tisminetzky is an instructor in the T.H. Chan School of Medicine, Tan Chingfen Graduate School of Nursing, and the Morningside Graduate School of Biomedical Sciences. She and Dr. Mara Meyer Epstein co-teach epidemiology and biostatistics to medical and nursing students. She is also a capstone project affiliate in the Kelley House, a Learning Community in the School of Medicine. In this leadership role, she helps ensure that students are moving forward with their projects throughout their four years of medical school and that they are following the required project criteria and deadlines. Additionally, this year she taught a course on psychiatric epidemiology in the GSBS Clinical and Population Health Research PhD program.
Dr. Tisminetzky joined the faculty at UMass Chan in 2009. She earned her medical degree and completed her internship and residency in Child and Adolescent Psychiatry at the University of Buenos Aires, School of Medicine in Argentina. She earned her PhD in Clinical Population Health Research from UMass Chan Medical School and holds a master's in public health from the University of Massachusetts in Amherst. On a personal note, Dr. Tisminetzky is an avid runner, reporting that she starts each day with a 10-mile run!
We are grateful for Dr. Tisminetzky's contributions to the Department of Medicine and for her ongoing commitment to excellence in her research.