Page Menu
Academic Technology
The Academic Technology team provides an environment to support the mission of the university and enhance the delivery of teaching and learning for all schools at UMMS. Our team offers scheduled and individual consultations to support the suite of applications listed below.
Student Laptop Program (School of Medicine Only)
The School of Medicine has implemented a Bring Your Own Device (BYOD) model. This means that all incoming students can purchase new or continue to use a laptop they have already purchased, as long as it meets system requirements.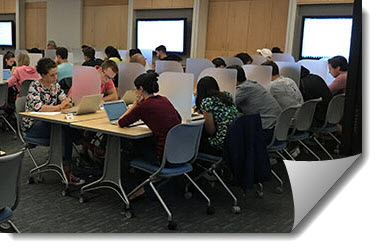 Integrated Teaching and Learning Center

(iTLC)
The Integrated Teaching and Learning Center (iTLC) is a flexible learning environment that facilitates team-based, interactive, and blended learning. The UMass Medical School's curriculum is designed to seamlessly integrate teaching across disciplines, emphasize self-directed study; promote team-based learning, and employ state-of-the-art technologies.
Academic and Research Technology Hub
The Academic and Research Technology Hub is a center for teaching and research faculty to brainstorm ideas and invent innovative tools and systems towards developing a world-class technological ecosystem for Academics & Research at UMass Medical School.
Consult w/Researchers
Assist faculty w/lectures
Showcase new Technologies
Collaborate
Read More
Contact Us
Email: AcademicComputingServices@umassmed.edu