Page Menu
For Media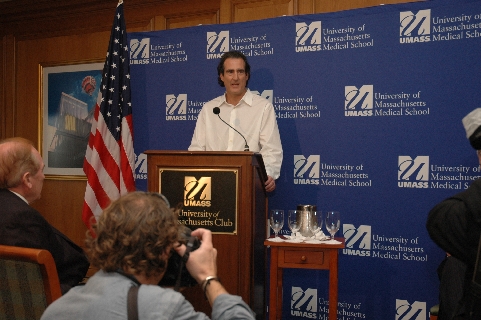 The media relations team in the Office of Communications (OC) strives to connect you with the appropriate news sources to compose stories that are meaningful to your audience. We want UMass Medical School's depth and breadth of expertise to be readily available as your prepare your stories and story ideas.
The media relations team can answer questions about UMass Medical School, as well as arrange for and coordinate interviews and secure locations for film, video and photo shoots.
For broadcast and online media purposes, the office has a state-of-the-art TV studio that can be used to film live or taped interviews.
We can be reached at 508-856-2000 or at ummscommunications@umassmed.edu. If you are interested in being added to the news release distribution list, e-mail us at ummscommunications@umassmed.edu.
For the latest news and information from UMass Medical School, like us on Facebook and follow us on Twitter.
---
Press Release Archives

Click here for press releases and news and feature stories produced by the Office of Communications.

Expert's Corner

Multimedia archive of UMass Medical School experts talking about their areas of expertise.

News Makers

Where UMMS experts have been featured in the news media.