Page Menu
UMass Chan Medical School Media Fellowship
The 2020 Media Fellowship has been cancelled due to the pandemic.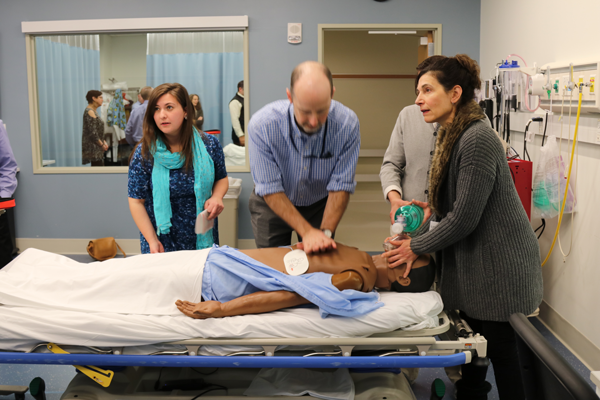 The 2018 media fellows participating in a hands-on drill in the UMass Chan Medical School Interprofessional Center for Experiencial Learning
UMass Chan Medical School's media fellowship offers print, broadcast and digital journalists the opportunity to immerse themselves for two full days in a leading academic biomedical research institution, gaining access to our leaders and faculty as you develop story ideas, contacts, and a greater context for cutting-edge medicine and science reporting.
2020 Fellowship dates: Due to the pandemic, the 2020 session has been cancelled. Please check back for updates.
Program schedule to be announced when the fellowship is rescheduled.
Overnight accommodations are available and all meals will be provided.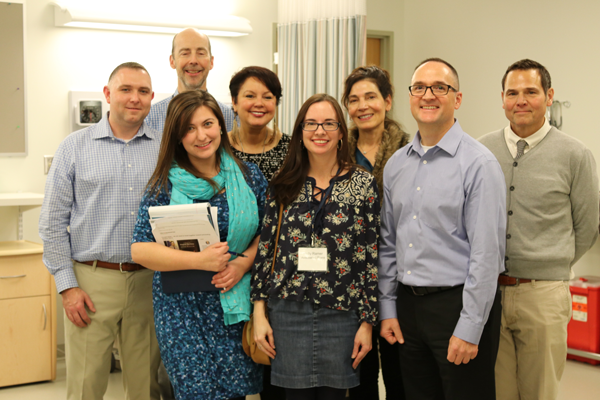 The 2018 UMass Chan Medical School
Media Fellowship participants
We offer a rare opportunity for journalists to…
Immerse themselves in the commonwealth's only public medical school
Dedicate two thought-provoking days to learning, with no deadlines to meet!
Come face-to-face with top researchers, clinicians, and leaders
Generate innovative story ideas and cultivate new contacts close to home to better cover a wide variety of medical and science stories
Gain hands-on experience in a working research lab and in a professional simulation learning center
Recharge professionally
Network with other journalists
Gain a deeper understanding of relevant and important science and medical issues
What we ask of you…
You must have the permission of your bosses to attend
Consider all sessions to be on background, unless otherwise noted
Bring your curiosity, desire to learn, and a general interest in covering science, medical and health-related topics
Complete an application
What we offer your bosses…
A rare opportunity for valued employees to participate in professional development – at no cost to you or your company
Learning and access that will distinguish your coverage on a wide variety of medical and science stories
Just two days away from the newsroom - a brief investment of time that will reinvigorate your employee, strengthen their dedication and improve future performance