Page Menu
Licensing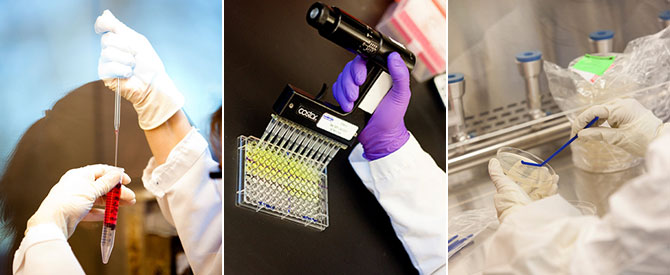 Licensing and Partnering are key components to MassBiologics' mission to discover and develop products that will significantly improve public health. During the last decade, MassBiologics has developed or collaborated on ten MAbs for therapeutic use in the area of Infectious Diseases. Four of these MAbs have entered the clinic, and two are licensed to commercial partners.
MassBiologics is committed to the pursuit of novel biologics for the treatment of diseases with high unmet needs (e.g. orphan indications, products for developing nations, etc.). MassBiologics' infrastructure includes product discovery, process development, manufacturing, filling, quality control, clinical affairs, quality assurance, and regulatory affairs offering our potential partners unique access to a continuum of resources that can enable a fully integrated research and development program.
MassBiologics invites interested parties to submit statements of interest for licensing of our proprietary products or for long term collaborations to develop novel therapeutics.
Collaborations

Serum Institute of India, LTD
In 2006, we entered into a Collaboration and License Agreement with the Serum Institute of India to develop a fully human monoclonal antibody against rabies virus for post-exposure prophylaxis treatment. A Phase I clinical trial in India was completed in 2010 and a Phase II/III trial comparing rabies monoclonal antibody and vaccine to current standard of human rabies immune globulin and vaccine is underway in India
Merck
In 2009, we and our co-developer, Medarex, signed an exclusive worldwide license agreement with Merck, through a subsidiary, for a fully human monoclonal antibody combination developed to target and neutralize Clostridium difficile toxins A and B, for the treatment of C. difficile infection (CDI). In 2011, Merck initiated a phase III trial to evaluate the monoclonal antibody candidate.