Page Menu
About MassBiologics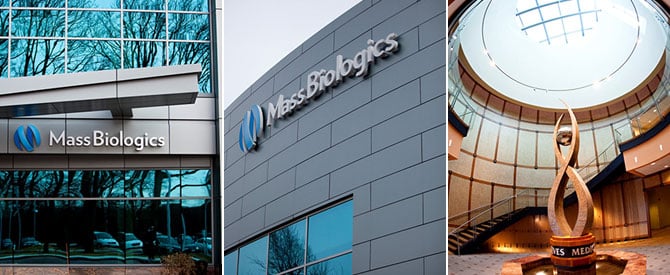 MassBiologics, located in Boston, is the only non-profit, FDA-licensed manufacturer of vaccines in the United States. For over 100 years, MassBiologics has worked to improve public health through applied research, development and production of biologic products, including vaccines, plasma derivatives and most recently, monoclonal antibodies. MassBiologics currently manufactures Tetanus and Diphtheria Toxoids, Adsorbed (Td) vaccine and distribute nationwide.
In 1997 the State Legislature transferred oversight of MassBiologics from the Massachusetts Department of Public Health to the UMass Chan Medical School (UMass Chan). MassBiologics' administration works with UMass Chan in scientific collaborations, technology management and creating partnerships for the development of products for the benefit of patients.
Mission: "Medicine for Better Lives"
To discover, develop, and manufacture biological medicines that improve the lives of people in the Commonwealth of Massachusetts and around the world while educating and training a workforce that will perpetuate this public health mission.
Vision:
To cultivate and disseminate knowledge that results in the discovery, development, and manufacture of safe and effective biologic medicines and supporting technologies that will significantly improve public health. This includes products and technologies for smaller patient populations due to limited incidence of disease, uncertain markets as new challenges to public health arise, or products for developing nations with limited resources and unique needs. Integral to the UMass Chan Medical School, MassBiologics will serve as a center of excellence for the education, training and mentoring of those who will create the next "medicines for better lives".