Page Menu
Publications 2016
Han G, Xie J.
Light-Mediated Deep-Tissue Theranostics.
Theranostics. 2016; 6(13):2292-2294.
---
Huang L, Li Z, Zhao Y, Zhang Y, Wu S, Zhao J, Han G.
Ultralow-Power Near Infrared Lamp Light Operable Targeted Organic Nanoparticle Photodynamic Therapy.
J Am Chem Soc. 2016; 138(44): 14586–91.​​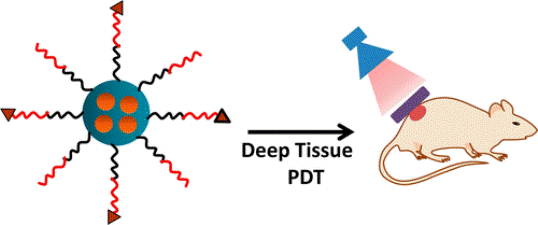 ---
Regino Mercado-Lubo, Yuanwei Zhang, Liang Zhao, Kyle Rossi, Xiang Wu, Yekui Zou, Antonio Castillo, Jack Leonard, Rita Bortell, Dale Greiner, Leonard D. Shultz, Gang Han*, and Beth McCormick*.
Salmonella Nanoparticle Mimic Overcomes Multidrug Resistance in Tumors.
Nature Communications. 2016; 7: 12225.
---
Zhanjun Li, Yuanwei Zhang, Ling Huang, Yuchen Yang, Yang Zhao, Ghida El-Banna, Gang Han.
Nanoscale "fluorescent stone": Luminescent Calcium Fluoride Nanoparticles as Theranostic Platforms.
Theranostics. 2016; 6(13): 2380-93.​
---
Peng Tan, Lian He, Gang Han*, Yubin Zhou*.
Optogenetic Immunomodulation: Shedding Light on Antitumor Immunity.
Trends in Biotechnology. 2016; 35(3), 215-226.
---
Zhang Y, Huang L, Li Z, Ma G, Zhou Y, Han G.
Illuminating Cell Signaling with Near-Infrared Light-Responsive Nanomaterials.
ACS Nano. 2016; 10(4): 3881-5.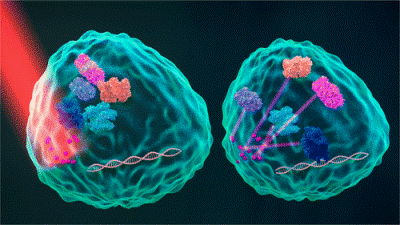 ---
Wu X, Zhang Y, Takle K, Bilsel O, Li Z, Lee H, Zhang Z, Li D, Fan W, Duan C, Chan EM, Lois C, Xiang Y, Han G.
Dye-Sensitized Core/Active Shell Upconversion Nanoparticles for Optogenetics and Bioimaging Applications.
ACS Nano. 2016; 10(1): 1060-6.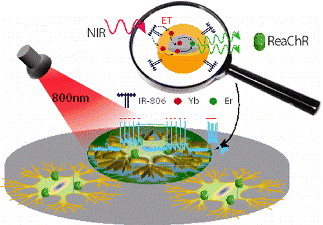 ---
Ling Huang, Ran Duan, Zhanjun Li, Yuanwei Zhang, Jianzhang Zhao and Gang Han.
BODIPY-Based Nanomicelles as Near-Infrared Fluorescent "Turn-On" Sensors for Biogenic Thiols.
(Selected as Front cover article) ChemNanoMat. 2016; 2(5): 396-9.