Page Menu
Publications 2013-2014
Punjabi A, Wu X, Tokatli-Apollon A, El-Rifai M, Lee H, Zhang Y, Wang C, Liu Z, Chan EM, Duan C, Han G.
Amplifying the red-emission of upconverting nanoparticles for biocompatible clinically used prodrug-induced photodynamic therapy.
ACS Nano. 2014 Oct 28; 8(10):10621-30.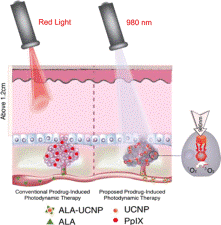 ---
Jie Shen, Guanying Chen, Anne-Marie Vu, Wei Fan, Osman S Bilsel, Chun-Chih Chang and Gang Han.
Engineering the Upconversion Nanoparticle Excitation Wavelength: Cascade Sensitization of Tri-doped Upconversion Colloidal Nanoparticles at 800nm.
Advanced Optical Materials. 2013; 9(1):644-650.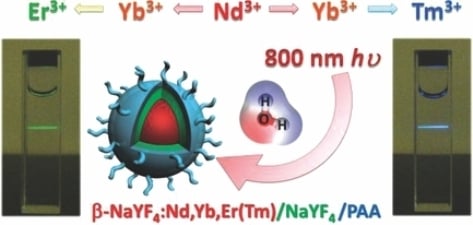 ---
Shen, J.; Zhao, L. and Han, G.
Lanthanide-doped upconverting luminescent nanoparticle platforms for optical imaging-guided drug delivery and therapy.
Adv Drug Deliv Rev.2013, 65(5) 744–755

---
Shen J, Chen G, Ohulchanskyy TY, Kesseli SJ, Buchholz S, Li Z, Prasad PN, Han G.
Tunable near infrared to ultraviolet upconversion luminescence enhancement in (a-NaYF4 :Yb,Tm)/CaF2 core/shell nanoparticles for in situ real-time recorded biocompatible photoactivation.
Small. 2013 Oct 11; 9(19):3213-7.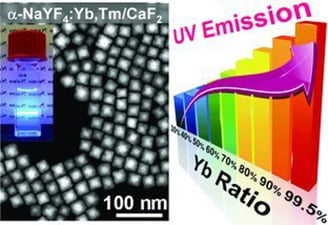 ---
Han G, Chen G.
Theranostic upconversion nanoparticles (II).
Theranostics. 2013; 3(5):354-5.
---
Chen G, Han G.
Theranostic upconversion nanoparticles (I).
Theranostics. 2013; 3(4):289-91.
---
Liang Zhao, Artem Kutikov, Jie Shen, Chunying Duan, Jie Song and Gang Han .
Stem Cell Labeling using Polyethylenimine Conjugated (a-NaYbF4:Tm3+)/CaF2 Upconversion Nanoparticles.
Theranostics (featured on cover). 2013; 4(3):249-257.