Page Menu
Terence R. Flotte, MD
Dean of the School of Medicine, Provost and Executive Deputy Chancellor
The Celia and Isaac Haidak Professor of Medical Education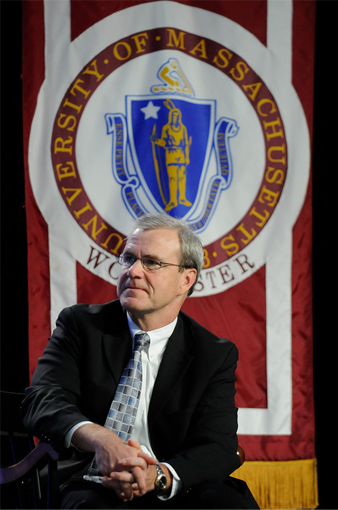 Terence R. Flotte, MD, is the Celia and Isaac Haidak Professor in Medical Education, dean of the School of Medicine and provost and executive deputy chancellor of the University of Massachusetts Medical School (UMMS).
In these roles, Dr. Flotte serves UMMS as chief academic and administrative officer of the School of Medicine, overseeing all academic activities of the basic and clinical science departments, including education and research for the School of Medicine and the Graduate School of Biomedical Sciences.
An internationally known pioneer in human gene therapy, Dr. Flotte is currently leading a research group that is investigating the delivery of therapeutic genes and microRNA with recombinant vectors for genetic diseases, such as alpha-1 antitrypsin (AAT) deficiency. In 1995, the Principal Investigator who led the team at Johns Hopkins that was the first to use rAAV as a vehicle to deliver corrective genes to targeted sites in the body. Since then, he has conducted several Phase 1 clinical trials for both AAT and cystic fibrosis as well as a Phase 2 clinical trial in AAT with vectors developed in his lab.
Since joining UMass, Flotte has also continued his pediatric practice while pursuing clinical trials and basic laboratory research. He is the author of more than 260 scholarly papers, his published work has been cited close to 7500 times and his research has recently been funded by the National Institutes of Health and The Alpha-1 Foundation.
Flotte has received numerous honors and awards, including the Society for Pediatric Research E. Mead Johnson Award for Outstanding Scientific Contributions and the University of Florida Faculty Research Prize in Clinical Science. He has been elected to the American Academy of Physicians, the American Pediatric Society, the Society for Clinical Investigation, and the Society for Pediatric Research. He is a member of the American Pediatric Society, the Society for Pediatric Research, the Massachusetts Medical Society House of Delegates, the American Society of Gene & Cell Therapy, and the American Society of Microbiology, among other professional associations. He has served on a number of boards, acting as reviewer and Associate Editor, serving on committees and workshops in education, research, planning and policy. He now serves on the Liaison Committee on Medical Education and the ASGCT Advisory Council, setting policy and goals for promoting gene therapy research through public education, scientific meetings and scientific committees.
Dr. Flotte received his undergraduate degree in the biological sciences from the University of New Orleans in 1982, and his medical degree from the Louisiana State University School of Medicine in 1986. After serving his residency in pediatrics at Johns Hopkins University, he completed a pediatric pulmonary fellowship and postdoctoral training in molecular virology there in 1992.
In 1996, Flotte joined the faculty of the University of Florida and was appointed Associate Director of UF's Powell Gene Therapy Center. In 2000, he was named Director of the Powell Center and founding Director of the newly established UF Genetics Institute, a cross-campus multidisciplinary unit encompassing gene therapy, human genetics, agricultural genetics and comparative genomics. In 2002, Flotte stepped down from these roles to accept the position of Chair of the Department of Pediatrics.
Flotte joined the University of Massachusetts Medical School in May 2007.