Page Menu
Selection Criteria
The T.H. Chan School of Medicine's admission policy promotes the UMass Chan Medical School mission by offering a quality, accessible medical education to those qualified applicants who will best serve health care needs through medical practice, public service, education and research. To learn more about our medical students, take a look at our Class Profile for the Incoming Class of 2027!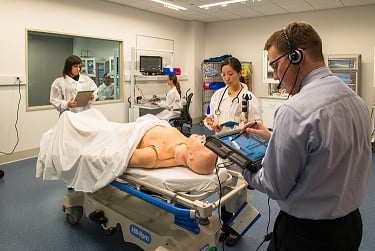 A committee comprising of representative faculty members and medical students determines selection for admission. A number of factors are carefully considered in the committee's review of each applicant's qualifications and in the selection of a matriculating class that will represent a broad and diverse spectrum of individuals, backgrounds and interests. These factors include, but are not restricted to, the following:
Prior academic performance
Content and breadth of scholastic preparation
Standardized test performance (MCAT)
Service activities which indicate an ability to work with people in a helping role. Many of our applicants have an interest in participating in medical experiences abroad. We advise you to review the AAMC Guidelines for Premedical and Medical Students Providing Patient Care During Clinical Experiences Abroad.
A baccalaureate degree from a U.S. or Canadian accredited undergraduate school

Applicants with a foreign bachelor's degree must complete at least one year of study in the U.S. or Canada prior to applying.

U.S. citizenship or permanent resident, Canadian citizen or permanent resident or approved DACA (Deferred Action for Childhood Arrivals) status
Attributes that contribute to the diversity of the class, including, but not limited to, socio-economic background, educational background, work experience, nationality, languages spoken, ethnicity, race, gender, gender identity, and sexual orientation. Also considered in diversity are students from disadvantaged backgrounds and resiliency in terms of positive capacity to cope with stress and adversity
Extracurricular accomplishments
Oral communication and interpersonal skills as documented in letters of support and in the interview
Written communication skills as determined by academic performance, standardized testing and materials submitted in the application package
Achievement in scientific research and/or medically related service
Evidence of motivation and preparedness for medicine
Attributes and values deemed necessary for physicians, including honesty, altruism, compassion, flexibility, maturity, intellectual curiosity, self-awareness, ability for self-directed learning and ability to work as a member of a team
In consideration of these factors described above, the UMass Chan Medical School encourages students to pursue a pre-medical education of considerable breadth including such coursework as English literature and composition, foreign languages, history, economics, ethics and the fine arts. All students must complete the coursework identified on the Academic Requirements webpage and demonstrate a strong performance in the biological and physical sciences as a sound foundation for pursuing further study in the medical sciences.
No single program can be recommended as the best or preferred plan of study. Candidates are, therefore, encouraged to select educational programs that best reflect individual interests and aptitudes. Whenever possible, advanced study in a field of interest is encouraged, with particular emphasis on activities involving independent study.
Students who are granted advanced placement credits for coursework taken in secondary school are advised to take additional college level programs in these subject areas.