Page Menu
LEAD@Lahey track
The innovative LEAD@Lahey (LEAD = lead, empower, advocate, deliver) track is hosted at our new regional medical school campus, in partnership with Lahey Hospital & Medical Center (Lahey), a part of Beth Israel Lahey Health (BILH), in Burlington, Massachusetts. Students on this track will follow the core curriculum of the T.H. Chan School of Medicine at UMass Chan Medical School with an added focus on leadership, health systems science and interprofessional education.


Our mission is to develop the next generation of purpose-driven physician leaders who seek to make a difference in the health and well-being of our communities through leadership, empowerment, advocacy and transforming the delivery of health care.
The LEAD@Lahey track for students enrolled in the T.H. Chan School of Medicine embodies Lahey's long legacy of collaborative, relationship-centered and team-based approach to caring for patients. As one of the few physician-led hospitals in the country, it provides the ideal environment to study the art and science of medicine while developing your own values-based leadership. Guided by faculty mentor/coaches, in an inclusive and rigorous fashion, you will begin by exploring your purpose, your leadership style and strengths, and effective team dynamics. Over the four years you will apply your leadership skills to real-world challenges in health care, culminating in the completion of an action project.
The UMass Chan-Lahey regional medical school campus builds on the success of UMass Chan's first regional campus at Baystate Health in Springfield, which was established in 2015 and is home to the Medical School's Population-based Urban and Rural Community Health (PURCH) track.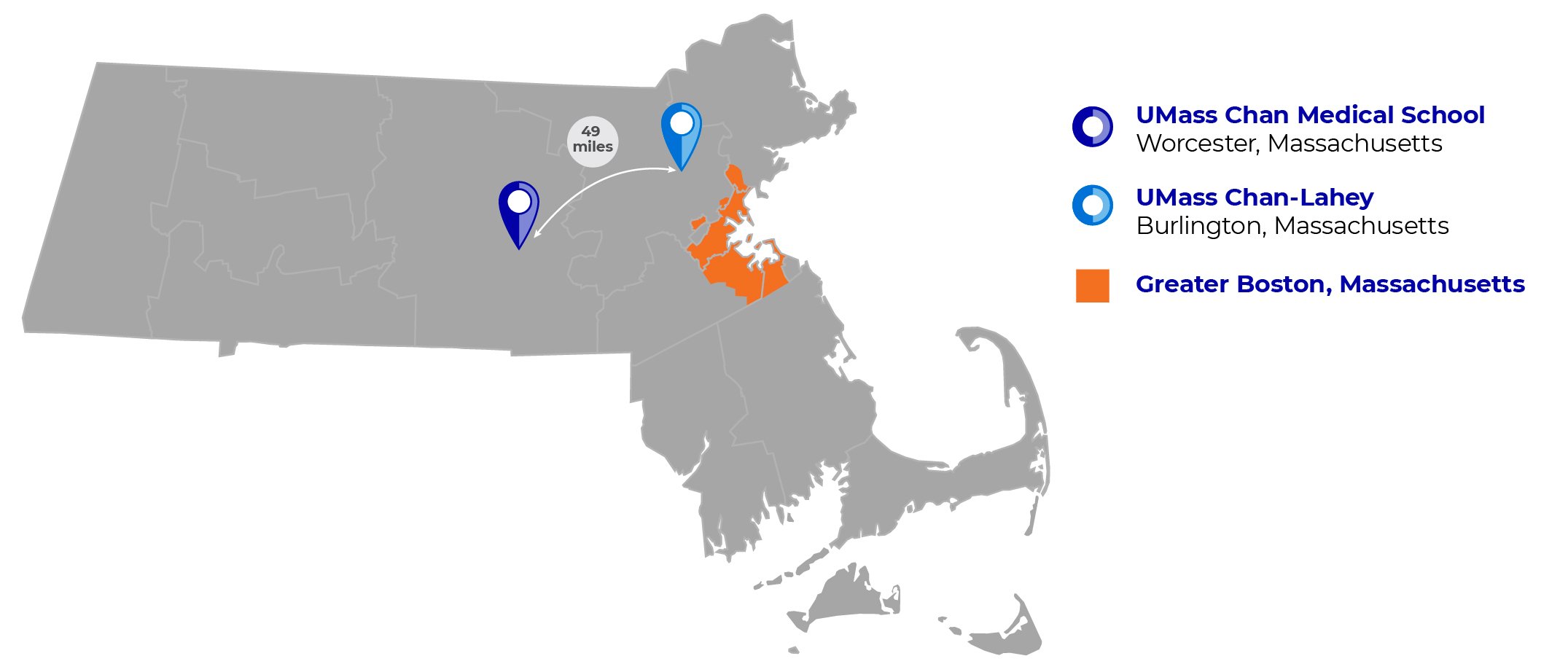 LEAD@Lahey
The LEAD@Lahey track is purposefully designed around the following four critical domains associated with values-driven leadership.
Leader of Self (Lead)- Discovering who you are as a values-driven leader. Through personal assessment tools and practical application, you will engage in a journey of discovering your leadership style, your values and your strengths as a leader.
Leader of Others (Lead, Empower)- Developing and empowering others and teams. You will gain the knowledge and skills through hands-on application and personal reflection to effectively empower and develop others to thrive and achieve in a health care setting.
Leader of Communities (Advocate)- Becoming a socially responsible leader to serve the local and global health communities. You will engage in an exploration of the social and ethical philosophies related to the role of leadership in addressing the challenges facing health care. Through this exploration, you will begin to relate these theoretical perspectives to your own personal leadership purpose and values and the role they play in promoting a vision that enhances diversity, equity and inclusion throughout the communities we serve.
Leader of Systems (Deliver)- Transforming systems and organizations to deliver better health care. You will develop an understanding of how your leadership promotes the strategies and environment for effective change and transformation within a team, department and institution to positively impact the lives of the people we serve.
LEAD@Lahey's impact
At UMass Chan-Lahey, you will be connected to community and business leaders and Lahey/BILH health care executives who are addressing issues of access, equity and social determinants of health in the diverse communities of northeastern Massachusetts. As members of the team, you will apply a data driven and change management approach to developing real world solutions that improve health for underserved communities, thereby understanding the role of physicians as advocates for their patients. Our medical school will be your partner during your training and support your development as you become a member of the next generation of health care leaders.
Whatever medical specialty you wish to pursue, LEAD@Lahey's foundational tenets of Lahey's interdisciplinary, patient-centered model combined with the educational expertise of UMass Chan provide a strong foundation using an interprofessional, team-based care delivery model that is centered on the patient and reflects a culture of inquiry and innovation to propel your career well into the future.



"The best part of practicing medicine is interacting with people, not just patients but interacting with a team of people that have the same goals."
Ivia Rivera Agosto, MD
Lahey neurologist and former UMass Chan intern

How LEAD@Lahey works
The LEAD@Lahey track leverages Lahey's long tradition of collaborative, relationship-centered, and team-based approach to caring for patients and provides the ideal environment to develop your skills as a physician and as a health care leader.
Faculty mentor/coaches will guide you—in an inclusive and rigorous fashion—as you begin exploring your purpose, your leadership style and strengths, and effective team dynamics. Students in the LEAD@Lahey track will experience exceptional training in a range of settings:
Core clerkships will be completed at Lahey in Burlington and across the extensive BILH primary care, behavioral health and community hospital network across northeastern Massachusetts.
Lahey faculty and specialty-specific clerkship site directors will supervise core clinical rotations and the majority of fourth-year rotations.
Students will experience clerkships within a framework of health systems science, seeing patients as individuals and how their care is delivered within a systems-based approach of the multi-specialty Lahey hospital.
Through a leadership lens to continuously improve care, students will have opportunities to do real-world community-based research in quality and patient safety, and comparative effectiveness under the guidance of Lahey and UMass Chan faculty.
In the fourth year, you will delve more deeply into the application of leadership and health systems science through intensive experiential rotations with both Lahey and community-based executives in greater Boston.
As a UMass Chan-Lahey student, you will apply your leadership skills to real-world challenges in health care, culminating in completion of an action project. By the time you graduate, you will have developed the skills in leading oneself, leading teams, and leading organizations, preparing you for leading the change in society and health care into the future.
The first class of LEAD@Lahey students will matriculate in the summer of 2024.
Students at UMass Chan-Lahey will be part of an exceptionally close learning community. You will develop camaraderie with classmates and peer mentors, faculty and educators for personalized educational opportunities.
LEAD@Lahey is based at the UMass Chan-Lahey regional medical school campus in Burlington.
During the first 18 months of training, you will spend most Wednesdays at Lahey and in its surrounding community in northeastern Massachusetts, participating in Early Clinical Learning. Lahey is part of Beth Israel Lahey Health, a health care system that brings together academic medical centers and teaching hospitals, community and specialty hospitals, and more than 4,000 physicians and 35,000 employees in a shared mission to expand access to great care and advance the science and practice of medicine through groundbreaking research and education.

Please send an email to LEADLahey-admissions@umassmed.edu with program or admissions related questions.