Page Menu
How to Apply
Welcome to the T.H. Chan School of Medicine at the UMass Chan Medical School! We invite you to read our School of Medicine Brouchure to learn more.
Applications for admission must be submitted online through the American Medical College Application Service (AMCAS). Please review application submission deadlines for the MD and MD/PhD programs.
Applicants are encouraged to apply early!
AMCAS requires 4 to 6 weeks to verify applications. Submission of applications to AMCAS by the MD and MD/PhD program deadlines does not guarantee that the application will reach us in time for applicants to complete secondary forms by the posted deadlines. Extensions will not be granted for late applications.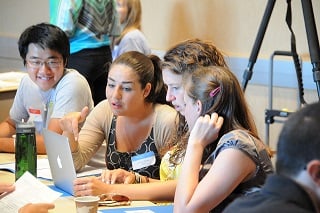 The Admissions Committee will review completed applications when all supporting documents have been received:
Verified AMCAS application

Use of third parties, companies or professional services for writing personal statements is strongly discouraged and considered a breach of ethical conduct. Contracting with such services would not be considered compatible with ethical standards in the practice of medicine.
Letters of Recommendation:

Letters of recommendation are an important part of your application. Individuals who you select to write letters of recommendation for you should know you well and should be knowledgeable of the challenges of medical school. Each recommender should write about you in a personal and specific way that highlights attributes or competencies expected of students entering medical school. The T.H. Chan School of Medicine Admissions Committee will accept 3 to 6 letters.
A composite premed committee letter is expected when a committee letter is available to you from your undergraduate institution. Applicants who do not submit a committee letter should explain in our secondary application why a committee letter was not provided. Additional letters (see below) can be submitted.
If a pre-med committee letter is not available at your institution, please submit letters from:

Two biology, chemistry, biochemistry or physics professors. These individuals should know you well enough to comment on your personal attributes.
Additional letters may be written by mentors, advisors and supervisors from academic, research, employment, volunteer and service opportunities.

Letters from family members and friends are not recommended.
If you are enrolled in or have completed a post baccalaureate or graduate program in biomedical sciences, a letter from the program director is expected in lieu of the undergraduate letter requirements.
If you are applying to our MD/PhD program, please provide letters from a minimum of two most recent research supervisors for a maximum of five letters. Applicants may exceed the six letter maximum if the additional letters are from research supervisors.
Applicants should send all letters of recommendation directly to the AMCAS Letter Service, which will forward the letters to the Admissions Office electronically through our application deadline. AMCAS will accept letters from users of VirtualEvals, Interfolio, and via the US Postal System. If you have a question about whether or not your advising office uses VirtualEvals, please contact your undergraduate advising office.

Letter submitted after the application deadline should be sent directly to the Office of Admissions from the letter writer.

When we have received all letters from all letter writers listed on the AMCAS application we will mark the letters portion of the online checklist as complete. Please allow at least 2 weeks processing time.
Medical College Admissions Test (MCAT) exam results

Applications will not be considered complete until scores from the last expected MCAT date on the AMCAS application are received. T.H. Chan School of Medicine will accept scores for tests taken up to three years prior to the time of application. We will accept and consider MCAT scores from Jan. 1, 2020 to Sept., 2023 for 2024 matriculation.
AAMC PREview (Professional Readiness Exam)

PREview will be required beginning in the 2023-2024 cycle. Applications will not be considered complete until the results are received. Test dates between January 1, 2021 and December 1, 2023 will meet the upcoming deadline, however, applicants are encouraged to complete and submit applications as early as possible during the cycle.
T.H. Chan School of Medicine Secondary Application Forms

Upon receipt of the AMCAS verified application, all applicants are sent an email with directions for completing the online secondary form:

Supplemental Form (includes a series of short essays)
Residency Validation form: Please review the Massachusetts Residency Classification to determine if you qualify for in-state tuition and fees. Applicants who wish to be considered for in-state tuition and fees must complete the Residency Validation Form. All applicants must be U.S. citizens or permanent residents, Canadian citizens or permanent residents or have approved DACA (Deferred Action for Childhood Arrivals) status.
PhD Information Release Authorization (for applicants to the MD/PhD program only)
Application to the Population-based Urban and Rural Community Health (PURCH) Track or the LEAD@Lahey Track, if appropriate.
Technical Standards Acknowledgement
Application Fee

MD program applicants must submit a non-refundable $100 application fee. Payment must be submitted online (through the Oracle portal) or via personal or bank check or money order mailed to the Office of Admissions. Please write your AMCAS ID# on your check. This fee is waived for MD/PhD program applicants. We will waive our $100 application fee if you are granted an AMCAS fee waiver.
English Language Proficiency Requirements

A language proficiency test is required for applicants for whom English was not the language of instruction for their undergraduate or graduate degree. UMass Chan accepts the Test of English as a Foreign Language (TOEFL) iBT, TOEFL Essentials, International English Language Testing System (IELTS) Academic, Cambridge Assessment of English (CAE), the Canadian Academic English Language (CAEL) test and Duolingo English Test. Please note, English language proficiency tests are valid for four years after the test date. See our minimum test score requirements and instructions to submit official test scores below.
Minimum Test Score Requirements:

TOEFL iBT: 103
TOEFL Essentials: 11
IELTS Academic: 7.5
Duolingo English Test: 125
CAE: 200
CAEL: 80
Completed Applications
Completed applications are reviewed by the Admissions Committee, which is comprised of faculty representing various disciplines from the basic and clinical sciences and medical students. The University adheres strictly to all applicable state and federal regulations relating to nondiscrimination and equal opportunity.

We employ a rolling admissions process whereby applicants are reviewed by the Admissions Committee throughout the admissions cycle and are notified as soon as a decision has been made.

Interviews

Interviews are by invitation only and are typically held between September and March. Applicants (MD and MD/PhD) will experience the multiple mini interview (MMI) in Worcester. PURCH Track applicants will also be required to visit the UMass Chan Medical School-Baystate campus in Springfield, MA for a separate round of interviews. Similarly, LEAD@Lahey Track applicants will additionally be required to visit the UMass Chan Medical School-Lahey campus in Burlington, MA for a seperate round of interviews. MD/PhD applicants will additionally participate in PhD/Morningside Graduate School of Biomedical Sciences interviews.