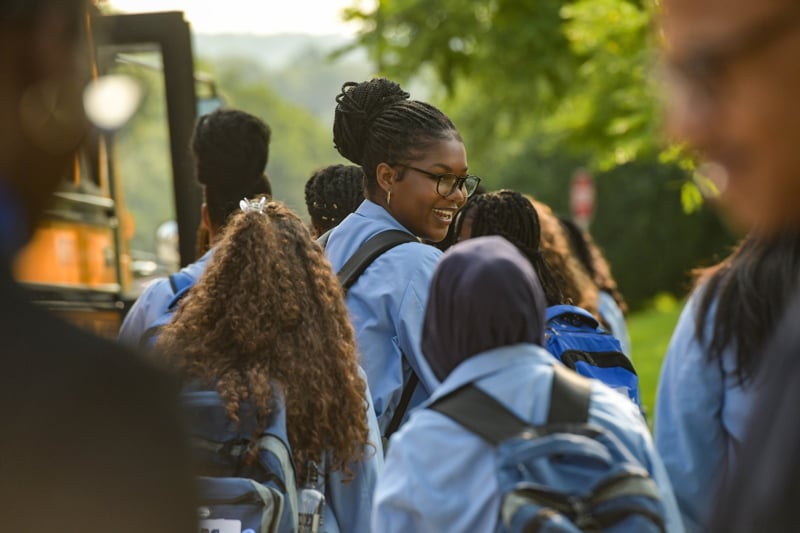 One summer for the opportunity of a lifetime.
The High School Health Careers Program at UMass Chan Medical School illuminates careers in medicine and science for high-achieving students from populations underrepresented in medicine.
"It's an in-depth experience for us to find out what it's like to work in health care and it might help us decide what we want to do with our future," said Michelle Fosu, a rising senior at Worcester Tech who aspires to a career in neuroscience or psychology and was one of the 19 students who took part in the 2023 program.
During the intensive, four-week, tuition-free program on the UMass Chan campus, teens are challenged daily in academic settings, where they learn about health and science topics, SAT prep, medical school admissions and contemporary issues in health care. They spend time in classrooms, clinics and labs with scientists, physicians and teachers. They also complete a health disparities research project and present their findings at the conclusion of the program.
"We have speakers from multiple health care professions and other speakers sharing with us how to get into medical school and that process, and it's all really helpful," added Julianne Chau, a rising senior at Worcester Tech who is interested in a career in physical therapy.
Led by 30-year educator Robert Layne, MEd, assistant dean of outreach programs at UMass Chan and director of the Worcester Pipeline Collaborative, the High School Health Careers Program is one of several at UMass Chan designed to encourage, educate and challenge young people from backgrounds underrepresented in medicine to consider and successfully pursue careers in health care.
It's part of the Worcester Pipeline Collaborative, a special partnership that brings together UMass Chan and local organizations in public education, health, science and biotechnology, with the purpose of increasing opportunities for underrepresented students.
"We really want to open the channels so that people who look like me know that careers in health care, medicine and biomedical research are something they can consider, know that they belong and know that they're welcomed. All we need to do is provide them with a little bit of hope and guidance, and a roadmap to follow. We're able to help them find the services that they need if they're experiencing some difficulty because it's not an easy road. It's a lot of work, a lot of time, and it's a lot of effort and commitment," Layne said.
"We're providing young people with the opportunity to understand what kind of work it's going to take to be successful in medicine. Many of the families haven't had the experience to give their children that roadmap and that's what we do."
The Worcester Pipeline Collaborative organizations include UMass Chan, Worcester Public Schools, Worcester State University, Quinsigamond Community College, UMass Memorial Medical Center and Abbot Bioresearch Center. Activities include job-shadowing, clinical observation and research internships, mentoring, tutoring, after-school science programs, visiting science programs, and a speaker's bureau.
UMass Chan medical students support several programs through the Worcester Pipeline at the city's North Quadrant public schools, including the Medical Professionals of Tomorrow and the Young Physicians of the Future mentorship programs targeting students from diverse backgrounds at North High School; Women in STEM at Worcester East Middle School; and the Innovative Pathways Program at Worcester Technical High School for students who attend other area high schools who are interested in careers in biotechnology and allied health.
"Our responsibility is really to let folks know that we are here to help educate you. We're here to help make you aware of health disparities that exist among the ethnic groups in your communities," Layne said.