Page Menu
Neurology Research at UMass Medical School
The Neurology Department at the University of Massachusetts Medical School has renewed its commitment to expand and invigorate research in neurology throughout central Massachusetts and New England, with an expansion in faculty and facilities devoted to improving the level of the neurosciences.

RESEARCH INTERESTS
Daryl A. Bosco, PhD [Faculty Page]
Elucidating the factors involved in sporadic ALS. See web page boscolab.com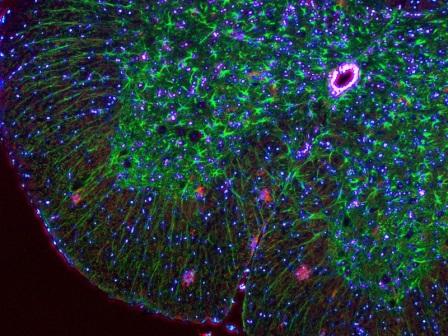 One focus of my lab is to elucidate the molecular mechanism(s) underlying sporadic forms of neurodegenerative diseases, with an emphasis on amyotrophic lateral sclerosis (ALS) or Lou Gehrig's disease. Approximately 10% of ALS cases are inherited through Mendelian genetics, whereas the vast majority (~90%) of cases are classified as sporadic ALS (sALS). The factors involved in sALS have yet to be identified; the challenge being that sporadic forms of neurodegenerative diseases are multi-factorial, involving a complex interplay between genetics and environment. Our goal is to develop relevant models to identify genetic and environmental factors involved in sporadic ALS (sALS) pathogenesis.
Investigating protein mis-function associated with neurodegenerative disease
Mutations in the gene encoding Cu, Zn-superoxide dismutase (SOD1) are known to cause inherited, or familial, forms of ALS (fALS). We are currently investigating the hypothesis that post-translational modifications to the wild type SOD1 protein cause it to adapt a conformation similar to the mutant SOD1 proteins, and that this process is involved in some sporadic forms of the disease. For example, oxidation of SOD1 WT (SODox) causes this protein to mimic the fALS-associated mutants. The effect of SODox compared to mutant SOD is being studied in the context of various biological assays, including axonal transport and programmed cell death. In addition, we are employing biophysical methods to i. structurally characterize SODox, and ii. identify small molecules that can stabilize oxidized SOD1.
Fen-Biao Gao, PhD [Faculty Page]

Our lab uses a combination of molecular, cellular, genetic, and behavioral approaches to further dissect the pathogenic mechanisms of frontotemporal dementia with a focus on mutant CHMP2B, progranulin and C9ORF72. We will identify common underlying pathways as potential targets for therapeutic interventions. To this end, multiple experimental systems will be utilized, including Drosophila, mouse models, and patient-specific induced pluripotent stem (iPS) cells. Another major research interest in our laboratory is the microRNA pathway. The roles of specific microRNAs in neuronal development and neurodegeneration will be investigated in detail.

Edward Ginns, MD, PhD [Faculty Page]

Dr. Ginns' research uses molecular approaches to gain insight into the pathogenesis of human developmental disorders, especially those causing brain dysfunction. In the Lysosomal Storage Disorders Program his interests focus on a "bench-to-bedside" approach, using Gaucher disease as a prototypic disorder to provide a better understanding of how the molecular pathology impacts the clinical course in patients and transgenic Gaucher mice, and for the development of novel therapeutic strategies, including gene therapy. For the more complex disorders, his laboratory and collaborators conduct linkage, candidate gene, mutation and genomic association studies in humans and animal models to identify susceptibility genes for human diseases, including bipolar affective disorder and obsessive compulsive disorder (OCD). Within the UMMS/UMMMC Molecular Diagnostics Laboratory, Dr. Ginns and his collaborators explore ways to provide more rapid, personalized and cost effective molecular clinical tests using state-of-the art technologies.

Lawrence J. Hayward, MD, PhD [Faculty Page]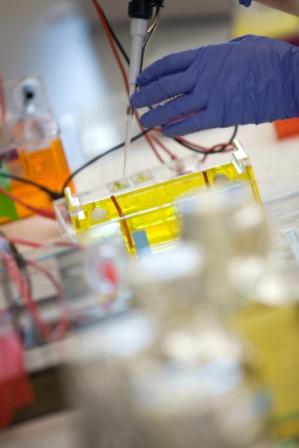 The Hayward lab seeks to understand the mechanisms by which specific gene mutations cause brain and spinal cord motor neurons to die in amyotrophic lateral sclerosis (ALS). These insights may help us to develop effective therapies for the more common sporadic forms of ALS and related motor neuron diseases. In one project, we have employed biochemical and biophysical approaches to characterize mutant Cu/Zn superoxide dismutase (SOD1) proteins that injure motor neurons in familial ALS. We showed that SOD1 mutants exhibit impaired metal binding or stability and are prone to pathological mis-folding that may promote adverse interactions with other cellular proteins or membranes. In another project, the lab is characterizing animal models based on newly identified ALS-related genes so that we can develop novel systems to screen for modulators of motor neuron health and disease progression. We are expressing ALS genes in zebra fish models, which allow rapid experimental manipulation and visualization to test specific hypotheses at the molecular and cellular level in vivo.
Carolina Ionete, MD PhD [Faculty Page]

Clinical research in Multiple Sclerosis and other immune mediated CNS diseases
My research is devoted to understanding the nervous system immune mediated diseases. Specific areas of interest are the interplay between psychiatric disorder and multiple sclerosis (MS), the clinical trials using new agents in treatment of MS, the biomarkers of MS disease activity and the biomarkers of HIV associated neurocognitive disorders.
Recent Articles:
Byatt N, Rothschild AJ, Riskind P, Ionete C, Hunt AT. Relationships between multiple sclerosis and depression. J Neuropsychiatry Clin Neurosci. 2011; 23(2):198-200.

John Landers, PhD [Faculty Page]

Genetics of Familial and Sporadic ALS
Amyotrophic lateral sclerosis (ALS) is a uniformly lethal, age-dependent neurodegenerative disorder with a typical survival of 2 to 5 years. Our laboratory is focused on using high-throughput genomic technologies to identify the genes involved in the development of sporadic and familial ALS. Most recently, our lab has utilized high-density SNP arrays to analyze over 300,000 DNA polymorphisms within ~4,000 subjects to test for their association to sporadic ALS. Through our efforts, we have identified KIFAP3, a kinesin II complex member responsible for fast anterograde axonal transport, as a modifier of survival in sporadic ALS. Homozygotes for the favorable allele located in the promoter region of KIFAP3 display a survival advantage of 14.0 months, a substantial increment (~30%) in this disease. Currently, our efforts are focused on understanding how KIFAP3 influences survival and how we can use this information to aid in the development of strategies to extend the lifespan of ALS patients.


Majaz Moonis, MD [Faculty Page]

My research focuses on several interrelated areas that affect stroke and dementia outcomes. More specifically I am interested in the following areas: Outcome research related to specific interventions affecting the vascular endothelium in stroke and Alzheimer's disease; health care disparities relating to race, age and gender in stroke and dementia; optimal management and effects on primary and secondary stroke prevention; genetic markers in cryptogenic stroke to aid in sub-classification and management; clinical trials in acute stroke and stroke prevention; data mining in sleep related disorders; and stroke.
Susanne Muehlschlegel, MD, MPH [Faculty Page]

Outcome Prognostication in Traumatic Brain Injury (OPTIMISM) Study
Dantrolene in the Prevention and Treatment of Cerebral Vasospasm after Subarachnoid Hemorrhage

Peter Riskind, MD, PhD [Faculty Page]

Dr. Riskind directs the UMMHC Multiple Sclerosis Center, a regional treatment, teaching and clinical research site for individuals with multiple sclerosis and other inflammatory CNS disorders. He is a site principal investigator for many multi-center trials of new drugs for Multiple Sclerosis and is conducting a number of investigator-initiated studies concerning factors that my affect the risk or severity of MS. In addition, the MS group is assessing optimal outcome measures in MS patients.
Miguel Sena-Esteves, PhD [Faculty Page]
The Sena-Esteves laboratory is investigating gene therapy approaches for the treatment of neurodegenerative lysosomal storage diseases such as GM1-gangliosidosis and GM2-gangliosidoses (Tay-Sachs and Sandhoff diseases). We have devised new ways to deliver therapeutic levels of the missing enzymes to the entire brain by injection of adeno-associated virus (AAV) vectors into specific structures in the CNS. Based on the exceptional results that we have obtained in animal models, we are initiating pre-clinical studies that will culminate in a human clinical trial for Tay-Sachs disease. Similar work is planned for GM1-gangliosidosis.
Also we are working on developing new AAV vectors capable of crossing the blood brain barrier for effective gene delivery to the brain after intravascular infusion. We have introduced a new paradigm for brain tumor gene therapy based on the genetic modification of normal brain to create an environment, which is non-permissive to tumor growth. We have demonstrated the effectiveness of this approach for preventing the formation and precluding growth of brain tumors using xenograft models in nude mice. Also we are initiating studies directed at understanding the contribution of different genes to the migratory behavior of GBM cells and strategies to counteract it. Finally we are investigating new gene therapy approaches for Ataxia Telangiectasia.