Page Menu
About the Perioperative Nursing Training Course
Thank you for your interest in our peri-op 101 program
Due to COVID related issues, we are unable to offer practicum sites; if you have a site secured and you are interested in this program please contact Maureen.wassef@umassmed.edu
The Perioperative Nursing Training Course (Periop 101) is a blended program with online modules created by the Association of periOperative Registered Nurses (AORN) and offered to registered nursing professionals (RNs) by the Graduate School of Nursing.
The course offers prospective students simulation skills activities at the new state of the art simulation center on the University of Massachusetts Medical School Campus, as well a clinical preceptor experience at local hospitals/surgical centers.
Each student receives a free, one-year membership to AORN so they can take advantage of other learning resources and member benefits throughout the program.
What are the course topics?
Registered nurses taking the training course will cover the following topics:
Anesthesia
Clinical Reasoning
Endoscopic and MIS
Environmental Sanitation and Terminal Cleaning
Hemostasis, Sponges, and Drains
Medications and Solutions
Patient and Family Education
PeriAnesthesia Nursing
Perioperative Assessment
Perioperative Health Care Information Management
Perioperative Safety: Equipment Focus
Perioperative Safety: Introduction
Perioperative Safety: Patient Focus
Positioning the Patient

Preoperative Skin Antisepsis
Professionalism
Safe Use of Surgical Energy
Scrubbing, Gowning, and Gloving
Specimens
Sterile Technique
Sterilization and Disinfection
Surgical Draping
Surgical Instruments
The Perioperative Environment
Transmissible Infection Prevention
Wound Closure
Wound Healing
Carlin Operating Room suite which is located in iCELS.
This simulation room equipped with OR instruments and supplies is utilized for both the Periop 101 and RNFA programs.
What are the course practicum requirements?
Acute care experience is strongly recommended, but new grads are welcome.
Before beginning the practicum, the following documentation is required:
Updated Immunization Record
Recent Flu Shot
Criminal Background Check
Proof of current BCLS certification
Current RN license
Proof of health insurance
Once enrolled in a course, the Graduate School of Nursing does not offer refunds.
Meet the Instructor
Thereza Ayad, DNP, RN, CNOR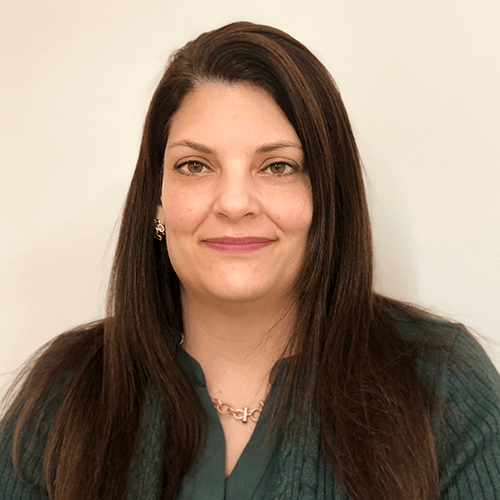 Thereza has been in the operating room setting since 2001 and held various positions as a Staff Nurse, Charge Nurse, Clinical Nurse Educator, and Nurse Manager all in the perioperative setting. Thereza has a BA in Anthropology, BSN in Nursing, MSN in nursing education and recently graduated with her DNP.
"Thereza was one of the most kind, patient and knowledgeable instructors I've encountered. Being able to see her during my clinical was an added bonus as she was always available to answer anything I asked. I'm so glad I took your course."
Mindy Vezeau, Periop 101 Student
"Professor Ayad is a wonderful teacher! She is patient, kind, and I fully enjoyed being her student."
Tina Hayat Benali, Periop 101 Student