Page Menu
Welcome from the Dean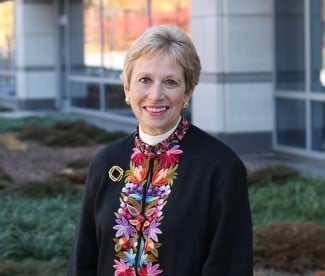 As the Dean of the Graduate School of Nursing at UMass Medical School I am honored to join a distinguished faculty whose vision of creating a community of health, discovery and human dignity speaks to its devotion to improving the health and well-being of people through research and scholarship, while preserving the dignity of those that they care for. The mission of the GSN is to prepare nurse scientists, advanced practice nurses, nurse educators and nurse leaders who together will improve the health care of the Commonwealth of Massachusetts and beyond. Consistent with this public mission, we focus on care to the underserved. This is accomplished through collaboration with the School of Medicine and the Graduate School of Biomedical Sciences at UMass Medical School; our clinical partner, UMass Memorial Health Care; and Commonwealth Medicine, the UMass Medical School health care consulting division that offers health policy, research, financing and service delivery to at-risk populations.
The GSN is one of only three nursing schools in New England based at an academic health sciences center, sharing campus resources and facilities with its clinical partner and medical school, as well as the Office Graduate Medical Education (GME). Such proximity allows us to be at the forefront of interprofessional education.
Our unique Graduate Entry Pathway program provides the opportunity for individuals with non-nursing bachelor's degrees to pursue Doctorate of Nursing Practice (DNP) degrees for careers as advanced practice nurses. Our DNP program also prepares advanced practice nurses to serve as family, acute/critical care and adult/gerontological nurse practitioners as well as nurse leaders in health care settings in diverse populations and educational settings. The PhD program prepares the next generation of nurse scientists who are critical to making discoveries that inform the highest quality of nursing care. The majority of our PhD graduates pursue academic careers in public colleges and universities, fulfilling a critical role in educating future nurses and leading research enterprises. In addition, we have master's degree tracks in population health and nurse education.
The GSN has an innovative curriculum and a nationally renowned faculty to support your career pursuits. Our alumni hold faculty, research and executive positions across the commonwealth and throughout the country. We will prepare you to be a transformational leader at the forefront of healthcare. Learn more by exploring our website and apply to one of our programs today.
In service to the GSN,
Joan M. Vitello-Cicciu, PhD, RN, NEA-BC, FAHA, FAAN