Page Menu
Message from the Chancellor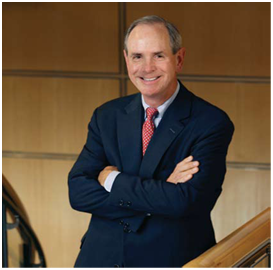 There has never been a more exciting time to be a part of the University of Massachusetts Worcester (UMW), the commonwealth's only public academic health sciences center. UMass Worcester brings together an extraordinary community of faculty, students and staff who provide state-of-the-art education, conduct groundbreaking research and take the lead in public service initiatives in Massachusetts and around the globe. Graduate School of Nursing students benefit from studying at an institution at the forefront of scientific advancement, one that attracts close to $300 million in research funding annually and consistently produces breathtaking advances in basic and clinical research.
The 10-year, $1 billion Massachusetts Life Sciences Bill enacted in 2008 casts our institution in a critical role in research, discovery, development and education in Massachusetts, most notably through the establishment of the Albert Sherman Center (ASC). The 512,000 square foot, state-of-the-art research and education facility will greatly expand our research capacity and create an ideal learning environment for our students. With the ASC poised to open, the promise of the commonwealth's forward-thinking life sciences initiative is unfolding here at UMW.
The ASC will house many dynamic and complementary research programs, such as the RNA Therapeutics Institute, the Gene Therapy Center and the Program in Systems Biology, that will bring together some of the best minds in the world focused on creating new therapies for debilitating diseases. Among them is researcher Craig Mello, PhD, a Howard Hughes Medical Institute Investigator who was awarded the 2006 Nobel Prize in Medicine with colleague Andrew Fire, PhD, of Stanford University for their discovery of RNA interference (RNAi). Since their seminal paper published in Nature detailed gene silencing by double-stranded RNA, the technology of RNAi has revolutionized biomedical research. Scientists realize that if RNAi is used to shut down disease-causing genes, then promising new therapeutics can result. Recognized as a global center for RNA-related research and collaboration, UMass Worcester boasts a growing cadre of internationally renowned experts in this field.
The seven-story, 258,000 square foot Ambulatory Care Center (ACC) is another new facility on the campus that exemplifies our commitment to education, research discovery and clinical translation. The ACC offers a unique complement of cutting-edge patient care clinics and education and translational research programs. For example, the building is home to the Department of Quantitative Health Sciences, established in 2008. The department, which fosters collaboration among existing clinical and basic science entities with the goal of shortening the time between laboratory breakthroughs and clinical applications, is integral to UMass Worcester's education and research vision, and aligns with recently identified priorities of the National Institutes of Health.
While advancing scientific innovation, we continue to be a leader in educating the health care providers of the future. UMW's goal is to prepare graduates to become compassionate healers. As the country sorts through the implications of the historic health care reform law now being implemented nationwide, we will continue to educate the care givers who will be able to meet their patients' health care needs in a new way. Moreover, with a special emphasis on primary care, we are committed to serving the public interest both locally and globally.
Amid all these exciting new developments, our guiding principles remain unchanged and unwavering. In all that we do, our institution places the highest priority on respect for the dignity and diversity of every member of our campus community and remains fully committed to supporting our students' professional, intellectual and emotional growth so they may have the opportunity to fulfill their potential and achieve their professional goals. I invite you to learn more about the Graduate School of Nursing through this catalogue and explore how joining our community can help you fulfill your dreams.

Michael F. Collins, MD
Chancellor, University of Massachusetts Worcester
Senior Vice President for the Health Sciences, University of Massachusetts