Page Menu
Immunology and Microbiology Program
The IMP Program features cutting-edge research in:
Innate immunity and inflammation
Host responses to infection and vaccine development
Fundamental molecular and cellular immunology
The mechanisms underlying bacterial, parasitological and viral pathogenesis
Diabetes and transplantation immunology
Autoimmunity
Systems biology of host-pathogen dynamics
Microbiome Sciences
Molecular mechanism of virus cell entry, assembly, and replication
Immunology, virology, and bacterial pathogenesis are interdisciplinary biomedical fields that employ methods ranging from molecular biology to clinical trials. The Immunology & Microbiology Program (IMP) is administered by an interdepartmental group that includes faculty with diverse research interests, including the molecular and cellular basis of innate immunity, adaptive immunity, molecular mechanisms of viral replication, host-pathogen interactions, and the control of viral, bacterial, and parasitic infections.
The major purpose of the Program is to recruit talented and highly motivated graduate students and postdoctoral fellows and give them first-rate preparation for competitive careers in academic research and industry. Currently there are approximately 35 graduate students in the program, and program faculty are training 80 – 100 postdoctoral fellows.
All BBS Graduate students acquire a broad base of knowledge in immunology, innate immunity, biochemistry, genetics, and cellular and molecular biology through the Scientific Inquiry in Biomedical Research (SIBR) course. IMP students gain a deeper and more specialized training in immunology, virology, and bacteriology through the Spring first-year course, Infection, and Immune Response, which introduces students to the immune system, basic principles of bacteriology and virology, and the interaction of bacteria and viruses with the host. Emphasis is placed on experimental systems and analysis of primary research papers. Further training continues in the fall of the second year with availability of three courses: Advanced Virology, Advanced Molecular and Cellular Immunology, or Advanced Bacterial Pathogenesis. Advanced courses emphasize reading and critical analysis of recent research papers, and which advanced course is taken depends on the student's area of interest. Additional training in the second year and beyond includes seminars, journal clubs, and tutorials all of which explore the most active areas of current research and support important networking opportunities for IMP students. Laboratory rotations help familiarize students with current research methods and facilitate the selection of an area of interest and a laboratory in which students can pursue their dissertation research.
REQUIREMENTS FOR SPECIALIZATION
All BBS students must complete the Scientific Inquiry in Biomedical Research (BBS 614) course as well as electives required by their program. All BBS students must take 3 graded elective courses of 2-4 credits each, and IMP students should include Infection and Immune Response (BBS755) in Spring of the first year, and, in the second year, at least one elective offered by the Immunology and Microbiology program (BBS821, BBS822, or BBS823). Equivalent electives offered by other departments or programs can be substituted with permission. All students, except for those in the final stages of their dissertation research, are required to take Graduate Student Seminar (BBS 833) each fall semester, and Immunobiology and Microbiology Seminar and Discussion (BBS 834), or an equivalent guest scientist seminar program, for two semesters. BBS834 provides a broad perspective on current research topics in the field and offers students unique networking opportunities with national and international leaders.
Specific questions about IMP should be directed to the Program or Course Directors.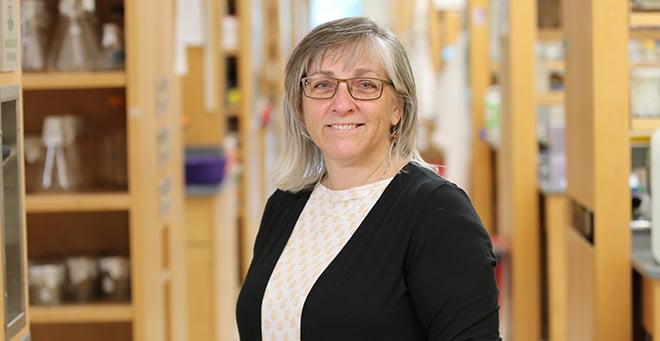 PROGRAM DIRECTOR
Ann Moormann, PhD, MPH
Professor
email Dr. Moormann

DEPUTY PROGRAM DIRECTOR
Andrea Reboldi, PhD
Associate Professor
email Dr. Reboldi
OUR FACULTY
Research areas of our faculty include:
Viral and bacterial immunology and pathogenesis
Molecular virology
Diabetes and transplantation immunology
Molecular and cellular immunology
Vaccine development
Host response against bacterial and viral pathogens
Innate immune mechanisms
Systems biology of host-pathogen interactions
Microbiome sciences
View the affiliated faculty listing for the Immunology and Microbiology Program.
STUDENT EXPERIENCE
IMP hosts an annual retreat featuring our faculty and students presenting their more recent research, as well as an invited keynote speaker. The keynote speakers usually attend for the duration of the retreat and add a great perspective with their Q&A during talks and poster presentations. Recent keynote speakers have included Ramnik Xavier (MGH), Greg Barton (UC Berkeley) and Neal Alto (UTSW). In addition to the retreat, IMP organizes a robust, semester-long seminar program where outside experts in the field visit campus for a day, present their current research and interact with students and faculty. In addition, IMP organizes several social and informational sessions each fall to welcome new students.
Many training-grant eligible IMP students are supported by T32 for one or more years. Training grants include:
STUDENT SPOTLIGHT

Sarah Cleveland, PhD candidate
Immunology and Microbiology Program
Sarah Cleveland studies T cells in the lab of Eric S. Huseby, PhD, professor of pathology. The lab studies how defects in T cell development can lead to autoimmune disease.



Getting Results…
PhD candidate seeks to develop first clinically approved antifungal vaccine

Read more

MD/PhD candidate seeks to improve health by understanding host-pathogen interactions

Read more

Nick Peterson and Samantha Tse named Ruth L. Kirschstein National Research Service Award recipients

Read more
Detection of intestinal pathogens through host surveillance of bacterial toxins

Read more

Mechanism of epigenetic inheritance in a mouse model of acute paternal stress

Read more

Pathogen sensing by nuclear hormone receptors in C. elegans intestinal epithelial cells

Read more
Investigating the role of B cells in pulmonary fibrosis resulting from STING gain-of-function autoinflammation

Read more

The Role of miR-122 in Alcoholic Liver Disease

Read more

The Role of Innate IL-17 Responses to Aspergillus fumigatus

Read more
POST-DEGREE CAREERS
IMP graduates pursue both academic and industry career tracks. In fact, one recent graduate has pursued both, with an academic postdoc, supported by an EMO Fellowship, at the CMM in Vienna and then founded a biotech startup, Allcyte, where he is currently serving as CSO. Many other graduates take positions directly after completing their degree in the local biopharma industry where expertise in immunology is in high demand. For example, some of our recent graduate have joined Amgen, Pfizer, Sanofi, AstraZeneca, Moderna, and Genetech. Others have pursued careers in intellectual property and the law, for example at Lathrop GPM. Another recent graduate joined the Massachusetts Department of Public Health where he manages a team providing surveillance for insect vectored virus.
In 1978, two years after the opening of UMass Medical School, now UMass Chan Medical School, a group of immunologists formed an Interdepartmental Immunology Committee, whose goal was to foster immunology research and training. A top priority was to establish a graduate program, and the institution gained Ph.D. degree-granting authority in the context of a "Program in Medical Sciences" in 1979. So as not to duplicate existing programs in Amherst, the graduate students on the Medical School campus participated in a more medically oriented curriculum, taking courses with medical students and earning a PhD in Medical Sciences rather than in a specific discipline. Soon it became clear that students needed sophisticated discipline-oriented course work and training, and the faculty began to offer core courses and advanced courses requisite for effective graduate student training.
The first two PhDs were awarded in 1984, both with specialties in immunology. In 1986, a formal, independent Graduate School was approved and is now known as the Morningside Graduate School of Biomedical Sciences. At that same time, reflecting the research interests of many of the faculty and the ongoing AIDS epidemic, there was a merger of disciplines to form the interdepartmental Immunology and Virology Program. The birth of these disciplines had a common origin with the Jenner smallpox vaccine, and the two disciplines had been evolving in parallel since that time. The immune system exists to fight pathogens, and much of the viral genetic machinery is used to avoid or co-exist with adaptive and innate immune system functions. It thus made little sense to be trained in one of those disciplines while remaining ignorant of the other. More recently, UMass Chan has enriched its faculty with researchers studying innate immunity, autoimmunity, microbial immunology and pathogenesis. As a consequence, the Immunology and Virology and Molecular Genetics and Microbiology graduate programs merged to become the Immunology and Microbiology Program (IMP).