Page Menu
ENLS
Emergency Neurological Life Support (ENLS) course
Described as "ACLS for the brain and spinal cord".
After the success of the past 10 ENLS courses and now a webinar and in person course, Shaheen Shaikh, MD, Department of Anesthesiology & Perioperative Medicine and Wiley Hall, MD, Department of Neurology, will be offering ENLS 5.0, the latest version of this course which came out in Spring, 2023.
The ENLS course is designed to help healthcare professionals improve patient care and outcomes during the critical first hours of a patient's neurological emergency. We hope you will join us!
Course Date: Wednesday, October 4th, 2023
Time: 8:00am - 5:00pm
Location: Albert Sherman Center, UMass Chan Medical School
For more information and to register: ENLS UMass 2023
Please Click Here to download course flier.
Course inquiries, etc. please contact: Kellie.Conway@umassmemorial.org
For more information about ENLS, visit the Neurocritical Care Society website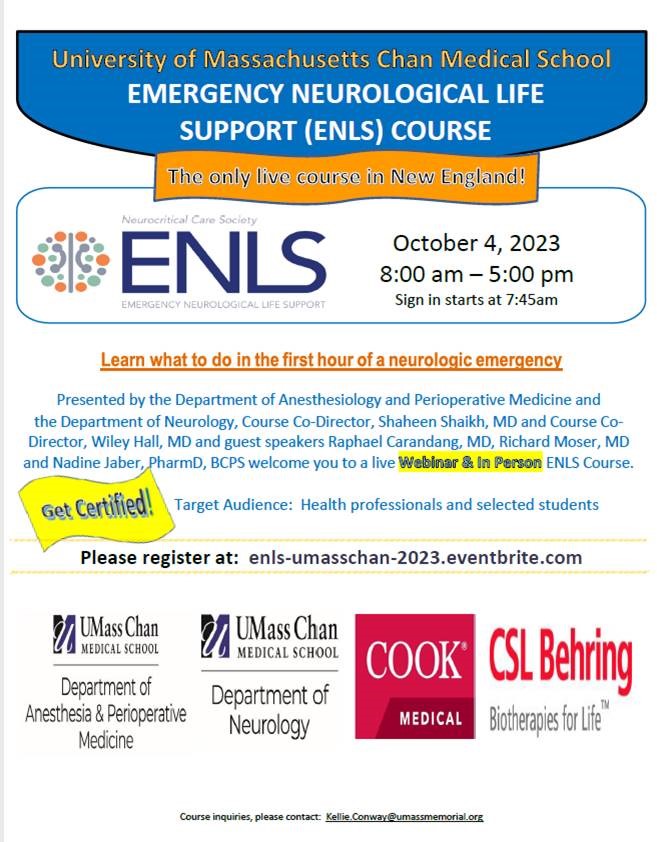 The speakers make this course!
Anesthesiology and Perioperative Medicine
Shaheen Shaikh, M.D., FASA Associate Professor of Anesthesiology & Perioperative Medicine . Dr. Shaikh well recognized for her contributions to the field of Neuroanesthesia and has been an Invited Speaker for Grand Rounds lectures in New England, Canada, England and India. She has played an important role in the Annual Meeting Society of Neurosciences and Critical Care and the Annual Meeting of the American Society of Anesthesiology. She has been invited to serve as moderator for several clinical poster sessions. Dr. Shaikh is currently serving on the Education Committee of the Society of Neurosciences and Critical Care, American Society of Neuroanesthesia and the American Society of Scientific and Educational Exhibits. She organized the first ENLS Course at UMass, endorsed by the Neuro- Critical Care Society.
Department of Neurology and Neurosurgery
Wiley Hall, MD - Assistant Professor of Neurology; Director of the NeuroICU and TeleStroke Services. Dr. Hall is a neurointensivist caring for critically ill patients, including those with intracranial hemorrhage, cerebral edema, traumatic brain injury and neuromuscular disorders.
Raphael A. Carandang, MD - Associate Professor of Neurology, Anesthesiology & Surgery; Director of Faculty Care Program and Neurohumanities Program. Dr. Carandang practices as a neurointensivist at the lakeside 2 Neurotrauma ICU, as a stroke neurologist on the University Campus and as a Telestroke physician and Electronic ICU physician at UMASS Memorial Medical Center in Worcester, Massachusetts. He is triple boarded completing fellowships in stroke neurology at the Cleveland Clinic in Ohio and neurocritical care at Massachusetts General Hospital and the Brigham and Women's Hospital in Boston. His research interests include cerebral edema and prognostication in traumatic brain injury, effects of nicotine on vasospasm in aneurysmal subarachnoid hemorrhage and stroke epidemiology. He is the Site PI for the New England Regional Coordinating Center of the NIH Stroke Net Consortium and MR WITNESS trial and Co-Investigator of the OPTIMISM TBI study and of the IDEF trial.
Richard P. Moser, MD - Professor, Neurological Surgery. Dr. Moser is an attending neurosurgeon at UMass Memorial Medical Center. In 2006, he joined the neurosurgery faculty at the University of Massachusetts Medical School as Professor of Surgery and Radiation Oncology. Dr. Moser was subsequently appointed chief of the Division of Neurosurgery in 2008 and the first Chairman (ad interim) in the newly formed Department of Neurological Surgery from 2012-2016. His translational research effort is focused on RNAi-based gene therapy for neurodegenerative disease at the UMass RNA Therapeutics Institute. He is founder and medical director of the Neurosurgery Program for Solidarity Bridge, a NGO which advances access to safe, affordable and timely surgical care in Latin America. In the Global Surgery arena, Dr. Moser serves on the Permanent Council of the G4-Alliance and the Board of the Foundation for International Education in Neurological Surgery.
Pharmacy Medicine
Nadine Jaber, PharmD, BCPS- Clinical Pharmacy Specialist- Neuro ICU. Dr. Jaber is a clinical pharmacist caring for critically ill patients in the Neuro/Trauma ICU at UMass Memorial Medical Center. She completed her Doctorate of Pharmacy at the University of Connecticut in 2012 and residency training and Yale-New Haven Hospital in New Haven, CT