Page Menu
Comprehensive Educational Experience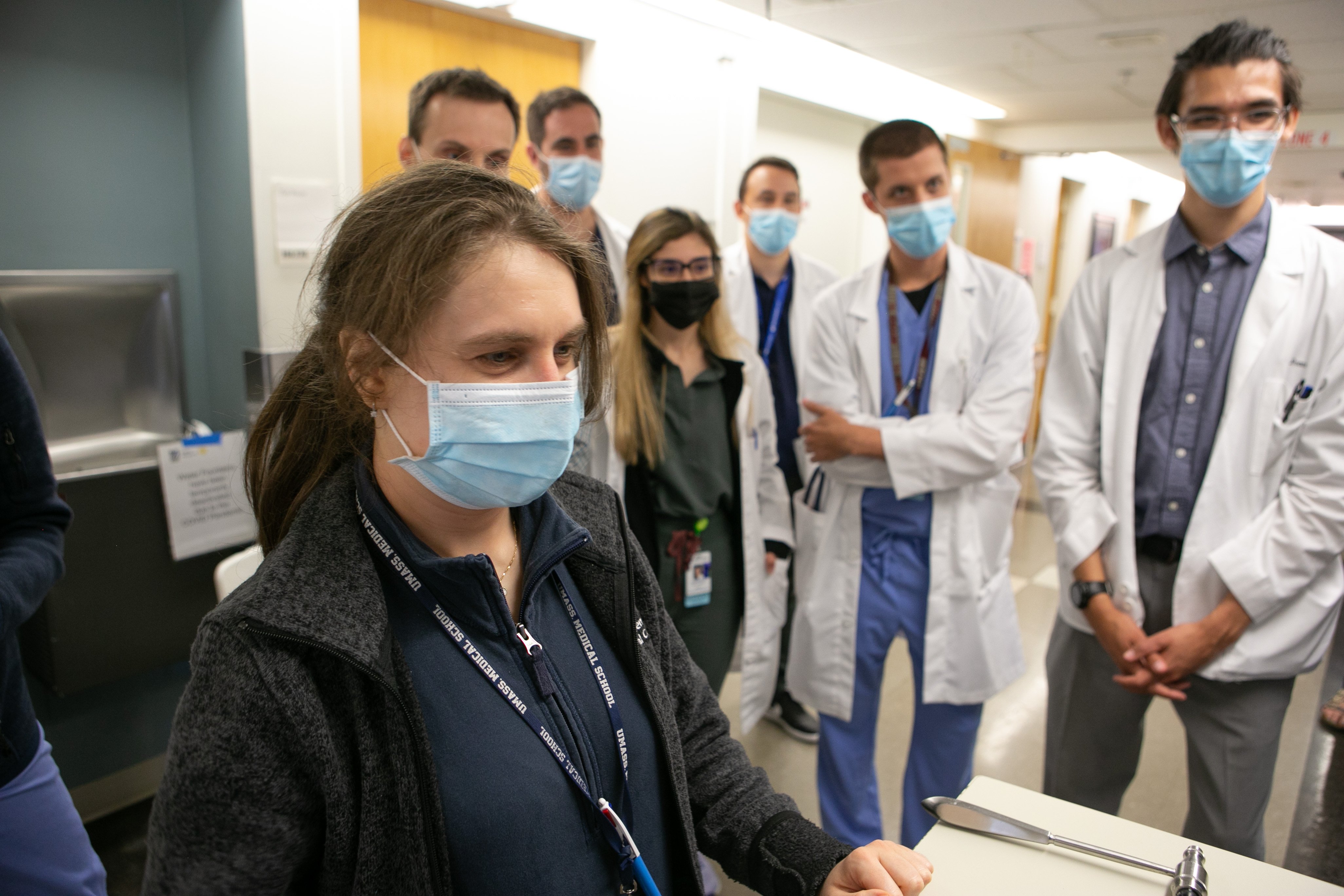 The department and its faculty are strongly committed to providing a well-rounded comprehensive program of education that will prepare residents to be excellent clinical neurologists, caring physicians and interested scientists.
Curriculum
The curriculum is comprised of a solid core of essential neurological topics endorsed by the American Board of Neurology and Psychiatry. These include neuroanatomy lectures given by Susan B. Gagliardi who is a multi-award winning medical educator and recipient of the Distinguished Teacher Award from AAMC, the Master Teaching Award from the International Association of Medical Science Educators and the UMass Chan Medical School Chancellor's Award for Distinguished Teaching. Neuropathology sessions are taught by senior neuropathologist Thomas Smith, MD. Brain cutting and clinic-pathological topics are discussed.
We have a neurohumanities curriculum that includes talks by guest speakers who emphasize the humanistic practice of neurology and the intersection of the arts and neurology. At UMass Chan we value diversity and have an educational series that addresses socioeconomic determinants of health as they pertain to neurology, minority health topics (including racial and gender), as well as a global neurology curriculum that includes live videoconferencing with remote hospitals to discuss clinical cases. We have simulations on stroke, seizure, lumbar puncture and palliative care topics. Additionally, other sessions that aim to develop clinical skills in case based neurological assessment, localization and management like daily morning report that explore different topics of interest to the residents.
Other unique highlights of the educational program include special journal clubs and symposium.  The vascular neurology journal club has been facilitated by Marc Fisher, MD, for more than 20 years and is a review of relevant clinical research articles with insightful critique provided by none other than Dr. Fisher himself, an acknowledged pioneer in the field of stroke research and the current editor-in-chief of the AHA journal, Stroke.
As one of the few universities in the U.S. with a combined neuro-psychiatry program, we are uniquely poised to hold a neuro-psychiatry journal club on various interesting topics relevant to psychiatrists and neurologists alike and facilitated by the chief residents and Sheldon Benjamin, MD, who is an acknowledged authority in neuro-psychiatric disease and a gifted educator who has received numerous awards including psychiatric educator of the year, the Lamar Soutter Lifetime Achievement award in Education, and the UMass Chan Medical School Chancellor's Award for Distinguished Teaching. 
The Departments of Neurology and Neurosciences have a neuroscience forum where basic science and clinical faculty, residents and post docs attend. This unique discussion provides a venue for clinical neurologists and neuroscientists to come together and learn from each other about neurology and neuroscience and bridge the gap between the lab and the clinic. The department also hosts a regular neuroscience symposium, which provides a truly holistic review of a specific neurological disease typically with a patient speaking and describing the impact of the disease on their lives, a clinical researcher reviewing the latest relevant clinical or translational research and a basic scientist discussing the cutting-edge cellular research ongoing in that disease process.
In addition to the highly successful global neurology track, the latest innovation to the curriculum is the development of a research track and a clincal educator track which provides regular didactics, sessions, resources and individualized mentorship geared towards fostering future careers as clinician scientists and educators.
Our curriculum and education program prepares our residents for independent practice and successful careers as neurologists.  This is evidenced by our board pass rate and it also forms a strong foundation for further subspecialty training. Our graduates have successfully placed in highly ranked prestigious fellowships in various subspecialties.
Resident as Teacher
We provide a resident as teacher curriculum to all residents as part of training here includes the opportunity to work closely with phenomenal UMass Chan medical students as they rotate through neurology as well as during their pre-clinical years. Opportunities for dedicated teaching include small group teaching in the neuroscience pre-clinical course, working with simulations for medical students, helping with student OSCEs, and working with students both inpatient and outpatient. For those residents who have a passion for education, they may consider the Clinical Educator Track.