Page Menu
Sanger Sequencing and Genotyping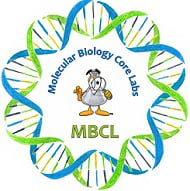 (On campus, great value!)
Standard DNA Sequencing

The user provides template(s) and custom primers or specifies a standard primer (see below). This program includes diluting and mixing templates with primers, custom sequencing protocols, and special reaction conditions.
Use this form: (Standard Reaction + Analysis ticket)
EconoSEQ

The Economy sequencing option is available for users who set up their own reactions (3μl template + 1μl 5μM primer) in the prescribed format. Any primer can be used if it is provided by the user. If not, one of our standard primers must be chosen. There are guidelines for recommended template concentration on the ticket. EconoSeq samples are processed on a high through-put platform at a lower price than standard sequencing, and usually get processed sooner since they go directly into the workflow. Price includes reaction and analysis.
Use one of the forms below:
EconoSeq Ticket for Strip Tubes (EconoSeq Ticket for Strips, excel version)
EconoSeq Ticket for 96 well Plates, excel version
High Throughput (HTP) - HTP pricing is per 96-well plate, and depends on project size. Please email us at MBCL@umassmed.edu for single plate pricing or a large scale quote.
FAQs

When Do I Use Sanger Sequencing vs NGS?
Please visit our Sanger FAQ page for answers to some other common questions.
Available Sequencing Primers

Standard Primers Available For Sequencing at MBCL listed 5' to 3'

M13F -40 CGC CAG GGT TTT CCC AGT CAC GAC
M13R CAG GAA ACA GCT ATG ACC ATG
SP6 universal ATT TAG GTG ACA CTA TAG
T3 AAT TAA CCC TCA CTA AAG GG
CMVpro CGC AAA TGG GCG GTA GGC GTG
T7 TAA TAC GAC TCA CTA TAG G
BGHrev TAG AAG GCA CAG TCG AGG
Genotyping

Includes SNP, LOH, AFLP, Microsatellite, ARISA, and Fragment Sizing. Please email us for information about your specific project; we currently maintain sizing standards for 20 - 1,200 bases and have spectrals installed for most available dye sets.
Use this form: (GeneMapper ticket)
Data Delivery and/or Retrieval

Current Data delivery options are:
Pick up from PMM server (inside UMass Chan Firewall) - This is the default; directions are emailed to you when data is ready.
Have Data burned onto a CD.
Leave a Flash drive with your samples.
BioInformatics

See the MBCL Resources page for suggestions for viewing and editing software.