Page Menu
MBCL Services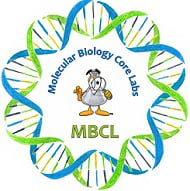 Sample Drop Off Locations:
Samples can be left in the labeled fridges at these locations
for 11:00 AM pickup each business day:
Biotech2 outside Suite 207
LRB 6th floor mailroom
AS8-2016
Our shipping address for off-campus customers is
Rose-Gordon Bldg. Rm. 141, 222 Maple Ave, Shrewsbury, MA, 01545. (Available weekdays from 9AM to 5PM - email us if you leave or ship samples here).
Learn more about Next Generation Sequencing (NGS) at our PacBio and Deep Sequencing Core websites!
Inclement Weather Policy

In case of extreme and/or inconvenient weather, deliveries and sample pickup may be postponed. Please email us to arrange drop-off if the weather is questionable. The DSCL, MBCL, & PBCE are closed when UMass Chan is on "inclement weather alert".