Page Menu
BOOST-3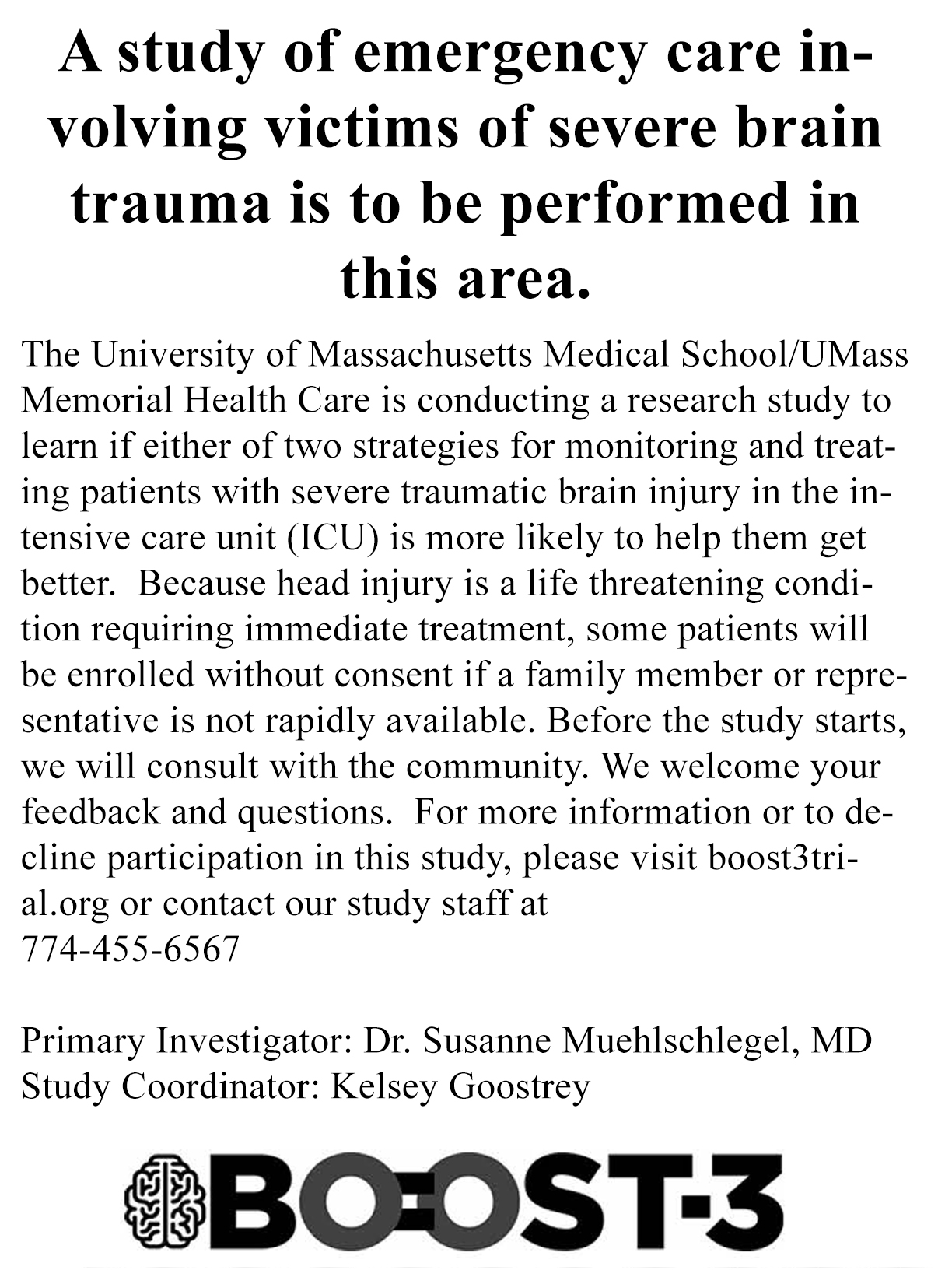 Site Primary Investigator (UMASS): Susanne Muehlschlegel, MD MPH
Study Coordinator: Shazeb Meraj, shazeb.meraj@umassmed.edu
Design: Phase III multi-center, single-blind, randomized, controlled, Exemption from Informed Consent trial.
Background: Brain tissue hypoxia is associated with unfavorable neurologic outcome, such as poor GCS and poor CT score. It is likely that minutes after a TBI is sustained, ICP will be elevated and brain tissue hypoxia is prevalent. In order to minimize brain tissue hypoxia and save brain tissue, this study will commence ICP and PbtO2 monitoring as soon as possible through Exemption from Informed Consent protocol. The primary goal is to minimize secondary neuronal injury.
Funding: National Institute of Health/National Institute for Neurological Diseases and Stroke (NIH/NINDS) and Strategies to Innovate Emergency Care Clinical Trial Network (SIREN)
Objectives:
Primary Objective: To determine whether the prescribed treatment protocol, informed by PbtO2 monitoring, results in improved neurologic outcome measured by the Glasgow Outcome Scale-Extended (GOS-E) 6 months after injury compared to treatment based on intracranial pressure (ICP) monitoring only
Secondary Objectives: To assess the safety of PbtO2 monitoring, as well as evaluate if PbtO2 monitoring improves survival, functional, cognitive, and behavioral outcomes.
Outcome measures: Functional Status (GOSE, structured interview), Formal Measures of Cognition (Rey Auditory Verbal Learning Test, Trail Making Test Part A+B, WAIS IV Processing Speed Index, Word Reading subtest of WRAT-4), and Emotional Health Measures (Rivermead Post-Concussive Symptom Questionnaire, Brief Symptom Inventory, Satisfaction with Life Scale).
Clinicaltrials.gov Link: https://clinicaltrials.gov/ct2/show/NCT03754114?term=pbtO2&rank=2