Page Menu
For Patients: Help for Postpartum Depression & Other Perinatal Mental Health Challenges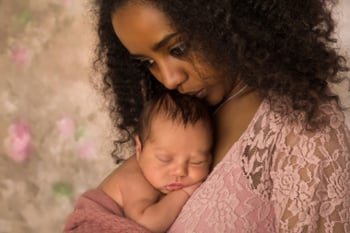 If you're feeling worried, down or overwhelmed during or after pregnancy (postpartum), you're not alone.
It's common to experience mental health concerns and complications during this time in your life. Expecting a new baby or being a new parent can be challenging. Getting the support you need is the best thing you can do for you and your baby.
Our pregnancy and postpartum resources offer practical resources for individuals experiencing mental health challenges during and after pregnancy. Download and share from the below links.
Mental Health During Pregnancy and Postpartum
Antidepressants
Emotional complications during pregnancy and/or after birth can impact your health and your baby's. Medication treatment can help. Learn how antidepressants work, what to expect and questions you should ask your provider.
Coping With Pregnancy and Postpartum Sleep Deprivation
Mental Health Resources for Families
Nurturing healthy children is how we attain healthy adults. Explore our mental health resources for kids and families:
▪ For parents and caregivers
▪ For kids and teens
Lifeline for Moms in the Media
For more of our latest news, visit Lifeline for Families News.
Live Science: What Is Postpartum Depression?
This August 16, 2021 article features an interview with Lifeline for Families and Lifeline for Moms executive director Nancy Byatt, DO, MS, MBA, FACLP, about postpartum depression and how to help individuals affected by it.
Read: What Is Postpartum Depression?
UMass Live on Facebook: Optimizing Maternal Mental Health
This May 3, 2018, Facebook Live features Dr. Byatt and Lifeline for Moms medical director Tiffany A. Moore Simas, MD, MPH, MEd, FACOG.
Watch: Optimizing Maternal Mental Health
Channel 3 UMass Memorial Health Watch: Beating the Blues
This April 11, 2017, report features Dr. Byatt.
Watch: Beating the Blues
Worcester News Tonight Health Watch InDepth
Dr. Byatt discusses new depression/mental health screening guidelines for pregnant and postpartum individuals.
Watch: Health Watch InDepth - What's New In Health Care