Page Menu
Why Perinatal Mental Health
Because Healthy Individuals Mean Healthy Infants, Families, and Communities
What Is Perinatal Mental Health?
Perinatal mental health refers to the mental health of an individual during pregnancy and the postpartum period (up to 1 year after delivery). During this time, it's common to experience a perinatal mental health or substance use disorder.
Perinatal mental health conditions include:
▪ Major Depressive Disorder
▪ Generalized Anxiety Disorder
▪ Posttraumatic Stress Disorder
▪ Obsessive-Compulsive Disorder
▪ Bipolar Disorder
▪ Opioid Use Disorder
▪ Alcohol Use Disorder
Addressing Perinatal Mental Health and Substance Use Disorders:
Why It Matters
Having a baby is challenging. Many pregnant and postpartum individuals feel low,
and the lows can seem unending. 1 in 5 experience a mental health or substance use disorder during pregnancy or in the first year after delivery. These conditions are one of the most common pregnancy complications.

75 percent of women who screen positive for depression receive no treatment

Maternal suicide causes 20 percent of postpartum deaths among women with depression. Mental health and substance use disorders are a leading preventable cause of maternal death.

There are major inequities in maternal health outcomes.
For example, Black women are three to four times more likely than
white women to die during the first postpartum year from all causes.
As it relates to perinatal mental health, despite higher rates of illness,
Black women are less likely to receive perinatal mental health care.
See our commitment to equity in mental health for projects that
we are working on to address these inequities.
Leading professional medical organizations recommend screening for depression in pregnancy and postpartum. These groups—including the U.S. Preventive Services Task Force American College of Obstetricians and Gynecologists, American Psychiatric Association, Council on Patient Safety in Women's Health Care, American Academy of Pediatrics, Center for Medicaid Services and American Medical Association—also recognize that screening alone is insufficient to improve outcomes and should be paired with adequate systems for appropriate follow-up and treatment.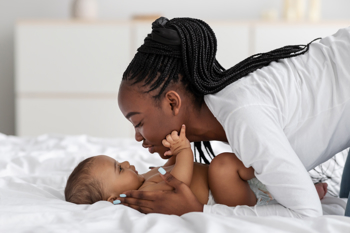 Treating Mental Health in Pregnancy and the Postpartum Period: The Challenge
For both perinatal care professionals and patients, the road to perinatal mental health care is full of dead ends. Most psychiatric clinicians aren't trained or equipped to treat pregnant and breastfeeding individuals. And a lack of perinatal mental health care infrastructure, services, and trained clinicians means there simply aren't enough resources.
As a result, most individuals with perinatal mood and anxiety disorders go unrecognized and untreated—despite routine contact with medical, childbirth, and pediatric professionals. Lack of treatment can have devastating effects on perinatal individuals, infants, and families for years, and even lifetimes.
How We're Increasing Access to Mental Health Care in Pregnancy and Postpartum
Addressing barriers to mental health care requires a practical, sustainable platform that builds the capacity of health care systems and communities. Our team designs and implements scalable interventions that demystify how to address perinatal mood disorders and mental health conditions outside of traditional mental health settings. We offer a range of evidence-based services and resources to help you increase perinatal mental health and substance use disorder care access in your area:
Capacity building
We offer resources to increase the number of caregivers that can address perinatal mood and substance use disorders. Learn more about capacity building to address perinatal mental health.
Research
We're developing interventions to better integrate mental health care into perinatal care settings. Get involved with our perinatal mental health research.
Consultation
Our consultation services help policymakers, advocates, and caregivers develop programs that increase access to and engagement in perinatal mental health care. We also help providers include mental health care in their everyday practice. Read more about our integrated perinatal mental health care consulting services.
Resilience Through Relationships Center
Research increasingly shows that resilience can be a powerful antidote to trauma. Our Resilience Through Relationships Center seeks to increase the resiliency of parents, caregivers, and children.