Page Menu
Dale L. Greiner, PhD: Current Research Includes:
Modeling Human Tumor Immunotherapy in NSG Mice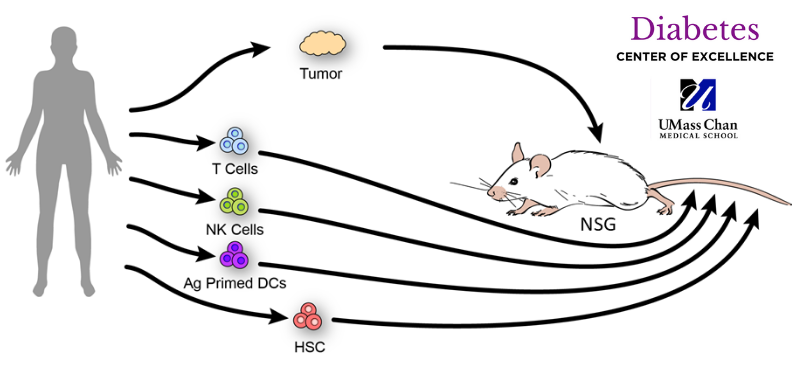 Type 1 Diabetes Specialized Mouse Avatars
Reconstructing human type 1 diabetes using cells derived from T1D patients, in our novel immunodeficient humanized mice. It provides a better understanding about how humans might react to certain factors.
Utilizing Humanized Mouse Models to Determine the Role of Costimulation Pathway Reagents in Human Immune Cells In Vivo
Assessing the role of human T cell costimulation pathway reagents in vivo using our unique specialized mouse models.
Development & Validation of Novel Mouse Models for Human Stem Cell Therapy
Working to generate new models of immunodeficient humanized mice for the functional in vivo evaluation of human stem cells and to validate these models by determining the ability of human stem cells to generate functional differentiated human cells and tissues that ameliorate disease.
Graphene Composite Membranes for Nano-Enabled Macroencapsulation
Developing an encapsulation device using graphene composite membranes in collaboration with Lockheed Martin to assess the viability and function of encapsulated human islets in vivo.
From New Models to Novel Therapeutics
Co-director with Dr. Michael Brehm of a pre-clinical/co-clinical core to advance development and use of models of human specific diseases at UMass Chan Medical School. The Core is working with The Jackson Laboratory (JAX) Precision Genetics Center (JPGC) promoting interactions with clinicians and hospitals, access to patient data and samples and comprehensive model assessment necessary for generation of models engrafted with human tumors and immune systems for preclinical testing.